The recipe Artichoke Cups
Artichoke Cups recipe is a Side Dish meal that takes 14 minutes to make. If you enjoy for Side Dish, you will like Artichoke Cups!
Artichoke Cups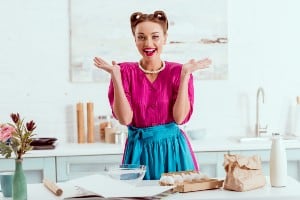 Artichoke Cups
A Pampered Chef Recipe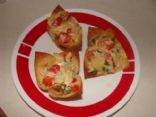 What Are The Ingredients For Artichoke Cups Recipe?
The ingredients for Artichoke Cups are:
3 T. Canola Oil
24 Won Ton Wrappers - square
14 oz Artichoke Hearts in water, drained
1/2 medium Red Bell Pepper
1/4 Cup grated fresh Parmesan Cheese
2 T. Finely chopped Parsley
1/2 Cup (2 oz) shredded Mozzarella
1/2 Cup Mayo
1 Garlic Clobe
How Do I Make Artichoke Cups?
Here is how you make Artichoke Cups:
Preheat oven to 350. Brush one side of won ton wrappers with veg. oil. Press wrappers into mini muffin pan. Bake 6 minutes or until light brown. Remove from oven, leave in pan.Meanwhile, coarsely chop artichokes, put in bowl. Wash and remove seeds from pepper and chop. Grate Parmesan. Finely chop parsley. Add pepper, Parmesan, Parsley, Mozzarella, Mayo, and minced garlic to the artichokes. Mix well. Fill won tons with artichoke mixture. Bake 8 minutes or until golden brown. Remove from pan and serve immediatelyNumber of Servings: 24Recipe submitted by SparkPeople user BRIEJW.
What's The Nutritional Info For Artichoke Cups?
The nutritional information for Artichoke Cups is:
Servings Per Recipe: 24
Amount Per Serving
Calories:

90.4
Total Fat:

6.2 g

Cholesterol:

4.3 mg

Sodium:

111.5 mg

Total Carbs:

6.5 g

Dietary Fiber:

0.8 g

Protein:

2.4 g
More Online Recipes
Appetizers, Soups & Salads, Asian, Beef & Pork, Birthday, Breakfast, Brunch, Christmas, Cookout, Dessert, Dinner, Fish, French, German, Indian, Italian, Kids, Lunch, Mexican, Party, Picnic, Poultry, Salad, Sandwich, Side Dish, Side Items, Slow Cooker, Snack, Soup, Spanish, Thanksgiving, Vegetarian
Online Recipes Of The Day