The recipe Italian Tiramisu
Italian Tiramisu recipe is a Italian Dessert meal that takes several minutes to make. If you enjoy Italian for Dessert, you will like Italian Tiramisu!
Italian Tiramisu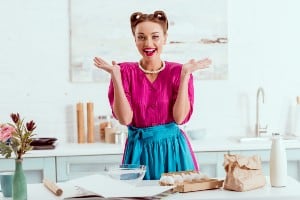 Italian Tiramisu
Tiramisu how my mum in Italy makes it. I've just replaced the sugar with sweetener!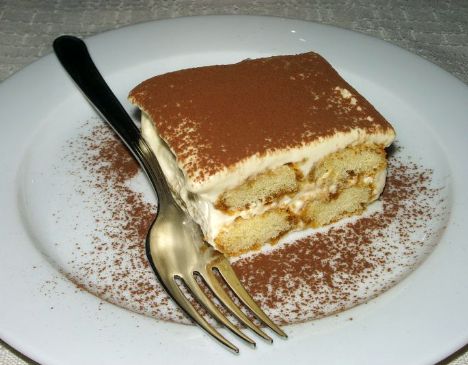 What Are The Ingredients For Italian Tiramisu Recipe?
The ingredients for Italian Tiramisu are:
Regular Coffee, 6 cup (8 fl oz)
*Mascarpone Cheese 35% milkfat, 300 gram(s)
*Alessi brand Biscotti Savoiardi (Lady Fingers - 4 pieces), 297 gram
*Sucralose (like Splenda), 30 tsp
Egg Yolk, 3 large
Cocoa, dry powder, unsweetened, 5 tbsp
lemon zest
How Do I Make Italian Tiramisu?
Here is how you make Italian Tiramisu:
Soak 36 Savoiardi Ladyfingers in the coffee. Take a large enough tray to contain the savoiardis and place 2 rows of 9 ladyfingers savoiardis in it. Then pour and spread the cream (see underneath for recipe) on them using a long knife. Repeat with another 2 rows of the remainder 18 savoiardis and again cover with the cream and spread it with a long knife. pour on it the dark unsweetened cocoa powder and put in the fridge for at least 1 hour. To make the cream:mix 3 egg yolk with the Splenda's equivalent of 150g of sugar, until strong and solid. Mix with a little lemon zest, and stir again until well mixed. Add the mascarpone cheese and mix everything until it gains the texture of a thick cream. Serving Size: I think it safely makes 20 portionsNumber of Servings: 20Recipe submitted by SparkPeople user GIULIAFANCELLI.
What's The Nutritional Info For Italian Tiramisu?
The nutritional information for Italian Tiramisu is:
Servings Per Recipe: 20
Amount Per Serving
Calories:

122.8
Total Fat:

6.7 g

Cholesterol:

60.0 mg

Sodium:

34.7 mg

Total Carbs:

13.1 g

Dietary Fiber:

0.4 g

Protein:

3.9 g
More Online Recipes
Appetizers, Soups & Salads, Asian, Beef & Pork, Birthday, Breakfast, Brunch, Christmas, Cookout, Dessert, Dinner, Fish, French, German, Indian, Italian, Kids, Lunch, Mexican, Party, Picnic, Poultry, Salad, Sandwich, Side Dish, Side Items, Slow Cooker, Snack, Soup, Spanish, Thanksgiving, Vegetarian
Online Recipes Of The Day