The recipe Baked Blueberry Oatmeal
Baked Blueberry Oatmeal recipe is a Breakfast, Snack meal that takes 50 minutes to make. If you enjoy for Breakfast, Snack, you will like Baked Blueberry Oatmeal!
Baked Blueberry Oatmeal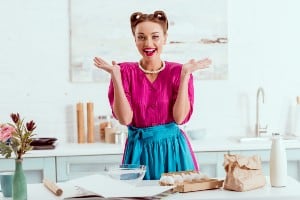 Baked Blueberry Oatmeal
This breakfast bake is easy on the calories and fat and as pretty as a picture. With its berries and oat-almond topping, it's almost like a tart, sweet fruit cobbler-great with a little Greek yogurt or milk on top!
What Are The Ingredients For Baked Blueberry Oatmeal Recipe?
The ingredients for Baked Blueberry Oatmeal are:
12 oz Almond Breeze Almond Milk, Unsweetened Vanilla
8 tsp Truvia Baking Blend Natural Sweetener with Sugar - serving size 1/2 tsp (2g)
3 tsp. Cinnamon
2.5 cups Bob?s Red Mill Gluten Free Oatmeal
2 tbsp Butter, unsalted, melted
.25 cup Bob's Red Mill Almond Meal/Flour (1/4 cup is 28g)
1 large Egg, fresh, whole, raw
.5 cup, chopped Pecans
1 cup Blueberries, fresh
1 tsp. Vanilla extract
1/4 tsp. Almond extract
1/8 tsp. Salt
Non stick cooking spray
How Do I Make Baked Blueberry Oatmeal?
Here is how you make Baked Blueberry Oatmeal:
Preheat the oven to 350 degrees F. Grease a 2-quart baking dish or 8-inch square baking pan with non stick spray.For the oatmeal: Stir together the oats, 2 tsp. Trivia blend and 1/8 teaspoon salt in a large bowl. Whisk together the almond milk, egg, vanilla and almond extract in a medium bowl. Pour the milk mixture into the oat mixture and stir well to combine.For the topping: Stir together the almonds, oats, 6 tsp. Trivia blend, butter, flour, cinnamon and 1/8 teaspoon salt in a medium bowl until evenly combined.To assemble: Pour the oatmeal into the prepared baking dish. Arrange the berries (including any juices) over the oatmeal. Sprinkle with the topping. Bake until lightly browned and just set, about 50 minutes. Let cool on a rack for 10 to 15 minutes. Serve warm.Serving Size: Makes 6 4? x 2.75? piecesNumber of Servings: 6Recipe submitted by SparkPeople user ONEFITWIDOW2013.
What's The Nutritional Info For Baked Blueberry Oatmeal?
The nutritional information for Baked Blueberry Oatmeal is:
Servings Per Recipe: 6
Amount Per Serving
Calories:

254.7
Total Fat:

16.2 g

Cholesterol:

41.4 mg

Sodium:

56.3 mg

Total Carbs:

24.8 g

Dietary Fiber:

4.4 g

Protein:

6.3 g
More Online Recipes
Appetizers, Soups & Salads, Asian, Beef & Pork, Birthday, Breakfast, Brunch, Christmas, Cookout, Dessert, Dinner, Fish, French, German, Indian, Italian, Kids, Lunch, Mexican, Party, Picnic, Poultry, Salad, Sandwich, Side Dish, Side Items, Slow Cooker, Snack, Soup, Spanish, Thanksgiving, Vegetarian
Online Recipes Of The Day