The recipe Red Velvet Angel Food Cake
Red Velvet Angel Food Cake recipe is a Dessert meal that takes 45 minutes to make. If you enjoy for Dessert, you will like Red Velvet Angel Food Cake!
Red Velvet Angel Food Cake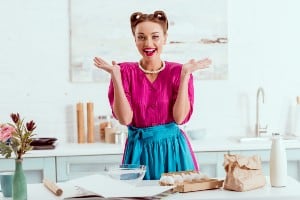 Red Velvet Angel Food Cake
Adapted from a Weight Watchers recipe - delicious, rich and light at the same time, and gorgeous for Christmas or Valentine's Day! Like Sugar is a new, all-natural calorie-free sweetener I found, it's awesome and unlike Splenda has no aftertaste - you do have to measure by weight when replacing sugar though.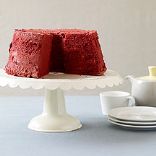 What Are The Ingredients For Red Velvet Angel Food Cake Recipe?
The ingredients for Red Velvet Angel Food Cake are:
1/3 cup cocoa
1/4 cup hot water
1 tbsp vanilla extract
2 tbsp red food colouring
1 cup (190g) Just Like Sugar
1/2 cup cake flour
1/2 cup whole wheat pastry flour
1/2 tsp salt
3/4 cup superfine (fruit) sugar
2 cups (approx 16) egg whites
2 tsp vinegar
How Do I Make Red Velvet Angel Food Cake?
Here is how you make Red Velvet Angel Food Cake:
Preheat oven to 350?F.In a medium bowl, combine cocoa, water, vanilla and food colouring until well blended. Set aside.In another medium bowl, whisk together Just Like Sugar, flours and salt. Set aside.In a large bowl, beat egg whites until foamy. Add vinegar and continue beating, streaming in sugar.Increase to high speed and beat until stiff peaks form.Scoop out about 1 cup of the beaten whites and quickly (but gently!) fold them into the cocoa mixture.Quickly (and gently) fold the flour mixture into the remaining egg whites, ensuring no streaks of flour remain.Fold in the cocoa mixture.Gently scrape the batter into an UNGREASED 10" tube pan, smoothing the top. Bake 40-45 minutes, until tests done.Invert onto a bottle (or the pan's feet if it has them) and cool completely.Number of Servings: 12Recipe submitted by SparkPeople user JO_JO_BA.
More Online Recipes
Appetizers, Soups & Salads, Asian, Beef & Pork, Birthday, Breakfast, Brunch, Christmas, Cookout, Dessert, Dinner, Fish, French, German, Indian, Italian, Kids, Lunch, Mexican, Party, Picnic, Poultry, Salad, Sandwich, Side Dish, Side Items, Slow Cooker, Snack, Soup, Spanish, Thanksgiving, Vegetarian
Online Recipes Of The Day