The recipe Holiday Poke Cake
Holiday Poke Cake recipe is a Dessert meal that takes 30 minutes to make. If you enjoy for Dessert, you will like Holiday Poke Cake!
Holiday Poke Cake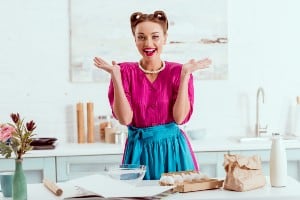 Holiday Poke Cake
This beautiful cake will add some fun to your holiday party(photo from the Kraft Foods website)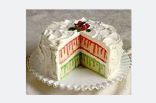 What Are The Ingredients For Holiday Poke Cake Recipe?
The ingredients for Holiday Poke Cake are:
Cake:
1 box White Cake (Duncan Hines Classic White Cake used in the calculations)
1 1/3 C water
2 tablespoons vegetable oil
1/2 C. egg substitute (Jewel brand Amazing Egg - 30 calories per 1/4 cup)
Other:
1 pkg. (4-serving size) JELL-O Gelatin, any red flavor
1 pkg. (4-serving size) JELL-O Lime Flavor Gelatin
2 C boiling water
8 oz. Cool Whip Lite
How Do I Make Holiday Poke Cake?
Here is how you make Holiday Poke Cake:
Make the 2 layers of cake in two 9 inch round cake pans. Bake for about 28 minutes until golden brown. Cool cakes completely.When cooled, poke holes in the top with a straw (or a fork). Mix each flavor of Jello with 1 C. boiling water in separate bowls. Stir for 2 minutes to mix completely. Pour one flavor over each layer of cake. Refrigerate the two layers for at least 3 hours.Dip each pan in warm water for 10 seconds to unmold the jello. Stack the two layers with cool whip in between, and frost completely in cool whip. Number of Servings: 12Recipe submitted by SparkPeople user ALLIECAT6708.
What's The Nutritional Info For Holiday Poke Cake?
The nutritional information for Holiday Poke Cake is:
Servings Per Recipe: 12
Amount Per Serving
Calories:

225.7
Total Fat:

6.0 g

Cholesterol:

0.0 mg

Sodium:

286.7 mg

Total Carbs:

38.2 g

Dietary Fiber:

0.0 g

Protein:

3.7 g
More Online Recipes
Appetizers, Soups & Salads, Asian, Beef & Pork, Birthday, Breakfast, Brunch, Christmas, Cookout, Dessert, Dinner, Fish, French, German, Indian, Italian, Kids, Lunch, Mexican, Party, Picnic, Poultry, Salad, Sandwich, Side Dish, Side Items, Slow Cooker, Snack, Soup, Spanish, Thanksgiving, Vegetarian
Online Recipes Of The Day