The recipe Christmas Leftover Chili
Christmas Leftover Chili recipe is a Dinner meal that takes 120 minutes to make. If you enjoy for Dinner, you will like Christmas Leftover Chili!
Christmas Leftover Chili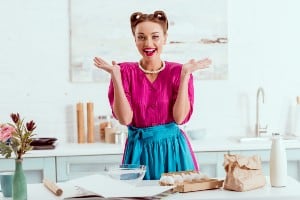 Christmas Leftover Chili
Leftover turkey and ham from the holidays? Make this succulent chili out of everything you have in the refrigerator. It's not very often you find a recipe that pleases the entire family, but this one does. Shredded turkey, chopped ham, and a potpourri of tomatoes, roasted peppers, onion and garlic. Add a pound of bacon if you're not concerned about fat (this recipe, as written, has less than 2g of fat per one cup serving).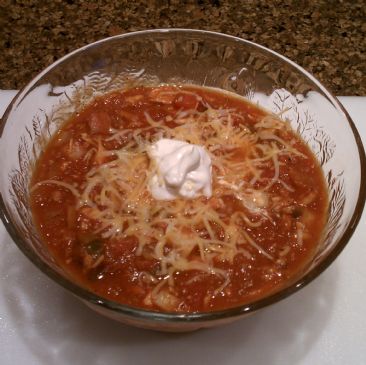 What Are The Ingredients For Christmas Leftover Chili Recipe?
The ingredients for Christmas Leftover Chili are:
1# turkey
1# ham
1/2# chicken breast
2 green bell peppers
2 red bell peppers
2 cans (10oz) Rotel diced tomatoes & green chilies
2 cans (29oz) tomato sauce
1 can (28oz) crushed tomatoes
2 white onions
1T garlic
3T chili powder
1T black pepper
2t salt
Shredded cheese & sour cream for garnish
How Do I Make Christmas Leftover Chili?
Here is how you make Christmas Leftover Chili:
Chop the turkey, ham and chicken to your liking. A food processor will shred it nicely, or use a chef's knife for larger pieces.Set your oven to broil. Wash and cut each bell pepper in half, removing the seeds. Spray a cookie sheet with Pam and arrange peppers on the sheet. Spray the peppers with Pam and broil for 5-8 minutes, or until slightly blackened. I find the red peppers take a bit longer than the green. Chop the peppers after roasting.Slice one onion and saut? over low heat in olive oil, along with the garlic, until the onions are clear (about 30-45 minutes).Place the meat, chopped peppers, Rotel tomatoes, crushed tomatoes and tomato sauce in a large stock pot. Chop the other onion and add it to the mix. If you can't find Rotel tomatoes, just use crushed tomatoes and add a bit more spice.Add the chili powder, black pepper and salt. Set the heat for medium and bring the chili to a boil while the onions are cooking. When the saut?d onions are clear, add the onions and garlic to the chili and allow the entire batch to simmer, covered, for about 90 minutes, stirring every 20 minutes.Serve with shredded cheese & sour cream on the side, or over noodles if desired.Makes 16 one cup servings. 150 calories, 2g fat, 17 carbs, 17 protein before garnish or noodles.Enjoy!Number of Servings: 16Recipe submitted by SparkPeople user GREGSMCDONALD.
What's The Nutritional Info For Christmas Leftover Chili?
The nutritional information for Christmas Leftover Chili is:
Servings Per Recipe: 16
Amount Per Serving
Calories:

149.7
Total Fat:

1.9 g

Cholesterol:

38.4 mg

Sodium:

861.1 mg

Total Carbs:

16.7 g

Dietary Fiber:

3.4 g

Protein:

17.0 g
More Online Recipes
Appetizers, Soups & Salads, Asian, Beef & Pork, Birthday, Breakfast, Brunch, Christmas, Cookout, Dessert, Dinner, Fish, French, German, Indian, Italian, Kids, Lunch, Mexican, Party, Picnic, Poultry, Salad, Sandwich, Side Dish, Side Items, Slow Cooker, Snack, Soup, Spanish, Thanksgiving, Vegetarian
Online Recipes Of The Day