Rich Cookies recipe is a Dessert meal that takes 15 minutes to make. If you enjoy for Dessert, you will like Rich Cookies!
Rich Cookies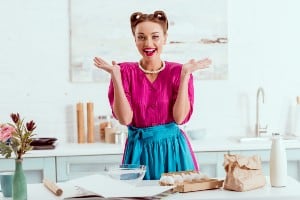 Rich Cookies
Rich in flavor & nutrients, these are adapted from a recipe originally called "disappearing cookies". Very approriate name! These servings are large cookies. Soooo tasty & good for you! Check out the nutritional value.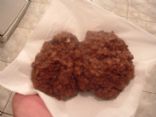 What Are The Ingredients For Rich Cookies Recipe?
The ingredients for Rich Cookies are:
1/2 cp margarine or butter
1 cp brown sugar, packed
1 egg
1/2 cp dry cocoa, unsweetened
1 1/2 tsp vanilla extract
1/4 cp soy flour
1/2 cp whole wheat or rye flour
1 1/4 cp oatmeal, dry
1/2 tsp salt
1 tsp baking powder
1-3 tsp instant coffee granules(optional)
2 Tbl wheat bran, crude
1 Tbl sesame seeds, toasted
1 Tbl flaxseeds
1/4-1/2 cp raisins
How Do I Make Rich Cookies?
Here is how you make Rich Cookies:
Mix first 3 ingredients together, add remaining ingredients, mix well. Drop by large spoonsfuls onto greased baking sheet and bake in 350 oven for 10-15 min.Makes 14 thick, 2-3 inch cookies.Number of Servings: 14Recipe submitted by SparkPeople user 53PINKROSES.
What's The Nutritional Info For Rich Cookies?
The nutritional information for Rich Cookies is:
Servings Per Recipe: 14
Amount Per Serving
Calories:

183.2
Total Fat:

7.0 g

Cholesterol:

13.4 mg

Sodium:

211.2 mg

Total Carbs:

28.7 g

Dietary Fiber:

3.2 g

Protein:

3.8 g
More Online Recipes
Appetizers, Soups & Salads, Asian, Beef & Pork, Birthday, Breakfast, Brunch, Christmas, Cookout, Dessert, Dinner, Fish, French, German, Indian, Italian, Kids, Lunch, Mexican, Party, Picnic, Poultry, Salad, Sandwich, Side Dish, Side Items, Slow Cooker, Snack, Soup, Spanish, Thanksgiving, Vegetarian
Online Recipes Of The Day