Oreo Cookies recipe is a Dessert meal that takes 20 minutes to make. If you enjoy for Dessert, you will like Oreo Cookies!
Oreo Cookies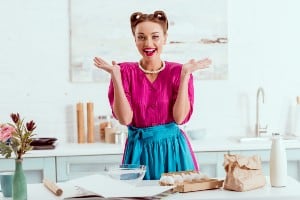 Oreo Cookies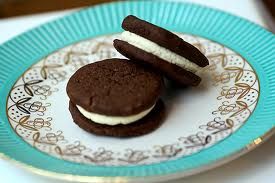 What Are The Ingredients For Oreo Cookies Recipe?
The ingredients for Oreo Cookies are:
1 1/3 cups unsweetened cocoa powder
1 1/2 cups flour
1/4 teaspoon salt
1/2 cup I can't believe it's not butter light, softened
1/2 cup unsalted butter, softened
1 cup Splenda
1/2 cup sugar
4 egg whites
1 teaspoon vanilla extract
For the Filling:
1 cup light whipping cream
1/2 cup unsweetened vanilla almond milk
1 (1 oz) box sugar free instant vanilla pudding mix
How Do I Make Oreo Cookies?
Here is how you make Oreo Cookies:
1. Sift together the cocoa powder, flour and salt in a large bowl. 2. Using a mixer, cream the butters, sugar and Splenda. Add the egg whites, 1 at a time, then the vanilla, incorporating each ingredient before adding the next. Add the dry ingredients and mix just until incorporated, scraping the bottom of the bowl with a rubber spatula. 3. Divide the dough into 2 pieces; place one piece between 2 lightly floured sheets of parchment paper and roll into a 1/4-inch-thick rectangle. Repeat with the other piece of dough. Refrigerate both rectangles, covered with the parchment sheets, until firm, at least 1 hour or up to several days. 4. Using a 2-inch round cutter, cut the dough into 64 circles. (You can reroll the scraps once.) Place the cookies about 2 inches apart on ungreased baking sheets and chill for 20 minutes. 5. Preheat the oven to 325 degrees. 6. Bake the cookies until they are set and slightly darker around the edges, about 20 minutes. Cool completely on wire racks. 7. Meanwhile, prepare the filling: Using a mixer, mix together the milk and pudding mix until well incorporated. Beat in the whipping cream slowly until it reaches the desired thick consistency.8. Flip half of the cookies upside down and top each with 1 level tablespoon of filling. Press the remaining cookies on top to make sandwiches.Serving Size:?Makes 32 cookies
What's The Nutritional Info For Oreo Cookies?
The nutritional information for Oreo Cookies is:
Servings Per Recipe: 32
Amount Per Serving
Calories:

107.9
Total Fat:

7.3 g

Cholesterol:

16.1 mg

Sodium:

91.7 mg

Total Carbs:

11.5 g

Dietary Fiber:

1.4 g

Protein:

2.0 g
More Online Recipes
Appetizers, Soups & Salads, Asian, Beef & Pork, Birthday, Breakfast, Brunch, Christmas, Cookout, Dessert, Dinner, Fish, French, German, Indian, Italian, Kids, Lunch, Mexican, Party, Picnic, Poultry, Salad, Sandwich, Side Dish, Side Items, Slow Cooker, Snack, Soup, Spanish, Thanksgiving, Vegetarian
Online Recipes Of The Day