The recipe Pretzel-Scotch Cookies
Pretzel-Scotch Cookies recipe is a Dessert meal that takes 10 minutes to make. If you enjoy for Dessert, you will like Pretzel-Scotch Cookies!
Pretzel-Scotch Cookies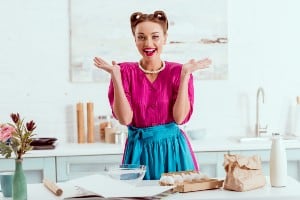 Pretzel-Scotch Cookies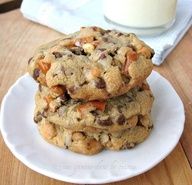 What Are The Ingredients For Pretzel-Scotch Cookies Recipe?
The ingredients for Pretzel-Scotch Cookies are:
1 cup unsalted butter
2 1/4 cups flour
1 tsp. salt
1 tsp. baking powder
1/4 cup sugar
1 1/4 brown sugar
1 egg
1 egg yolk
2 Tbsp. milk
1 tsp. vanilla extract
1/2 cup pretzels, broken into pieces
1/2 cup chocolate chips
1/2 cup butterscotch chips
Course sea salt (optional)
How Do I Make Pretzel-Scotch Cookies?
Here is how you make Pretzel-Scotch Cookies:
Brown butter in medium sauce pan. Let cool for 20 minutes.Sift together flour, baking powder and salt.Pour browned butter in large bowl and mix sugars on medium for 2-3 mins.Add eggs, milk, and vanilla for 2-3 minutes.Slowly add flour mixture until combined.With a spoon or spatula mix in pretzels and chips until even distributed.Cover bowl and refrigerate for at least 8 hours.Preheat oven to 350 and line cookie sheet with parchment paper.Scoop out heaping Tablespoons of dough and roll into a ball. Place on cookie sheet and flatten slightly. Sprinkle with course sea salt if desired.Bake for 10 minutes.Let sit on cookies sheet 10 minutes before transferring to cooling rack.Serving Size: Makes about 36 cookiesNumber of Servings: 36Recipe submitted by SparkPeople user KBELTOWSKI.
What's The Nutritional Info For Pretzel-Scotch Cookies?
The nutritional information for Pretzel-Scotch Cookies is:
Servings Per Recipe: 36
Amount Per Serving
Calories:

149.0
Total Fat:

6.5 g

Cholesterol:

24.2 mg

Sodium:

136.2 mg

Total Carbs:

20.6 g

Dietary Fiber:

0.5 g

Protein:

1.6 g
More Online Recipes
Appetizers, Soups & Salads, Asian, Beef & Pork, Birthday, Breakfast, Brunch, Christmas, Cookout, Dessert, Dinner, Fish, French, German, Indian, Italian, Kids, Lunch, Mexican, Party, Picnic, Poultry, Salad, Sandwich, Side Dish, Side Items, Slow Cooker, Snack, Soup, Spanish, Thanksgiving, Vegetarian
Online Recipes Of The Day