The recipe RUSTIC COOKIES
RUSTIC COOKIES recipe is a Dessert meal that takes 20 minutes to make. If you enjoy for Dessert, you will like RUSTIC COOKIES!
RUSTIC COOKIES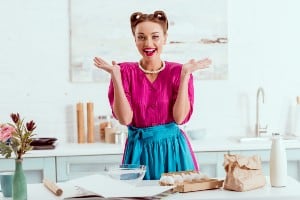 RUSTIC COOKIES
This is a crunchy cookie that all my friends RAVE about. It's by no means " Healthy" But its a lot less bad than most cookies making use of whole grain flours and minimal amounts of sugar. It also has fiber and roughage from steel cut oats and wheat germ as well and nuts. But yeah... cant sub the butter or Crisco without ruining the texture. ( Believe me I tried! LOL)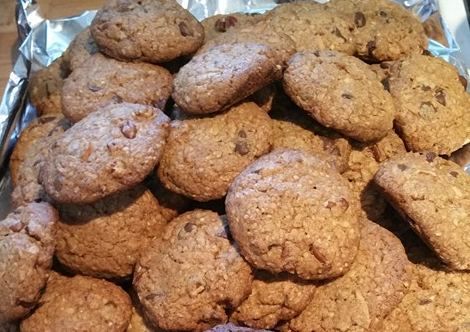 What Are The Ingredients For RUSTIC COOKIES Recipe?
The ingredients for RUSTIC COOKIES are:
16 tbsp Shortening, Crisco
.5 cup, packed Brown Sugar
5 serving Nectresse no-calorie sweetener (1 packet)
.25 cup Granulated Sugar
1 cup Flour, whole grain
1 cup Whole Wheat Flour
1 tsp Cinnamon, ground
1 tsp siracha chili sauce (by ANT723)
1 tsp Baking Soda
.5 tsp Baking Powder
.5 tsp Salt
1 cup Oatmeal - Trader Joe's Quick Cook Steel Cut Oats
16 tbsp Coconut, shredded sweetened
1 cup, halves Pecans
16 tbsp Hershey's Special Dark Chocolate Chips
.25 cup Wheat germ, crude
2 large Egg, fresh, whole, raw
How Do I Make RUSTIC COOKIES?
Here is how you make RUSTIC COOKIES:
IN a large bowlCream together 1 cup butter flavor Crisco or softened butter, 1/2 cup brown sugar, the equivalent of 1/2 cup sugar in ( stevia, nectresse or what ever no cal sweetener you prefer), 2 eggs, 1 teas siracha hot sauce ( or hot sauce of your choice) , I teas cinnamon, 1 teas baking soda, 1/2 teas baking powder, and 1/2 teas salt.Sift 1 cup whole wheat cake flour and 1 cup FINE whole grain flour of your choice ( Spelt and aramanth are both good but pretty much anything other than cornmeal works- corn meal is too coarse) Add to wet ingredients and incorporate.Stir in 1 cup quick cooking steel cut oats, 1 cup shredded coconut, 1 cup pecans pieces , 1 cup chocolate chips and 1/4 cup wheat germ. Stir till well mixed. Line baking sheet with parchment and use a tablespoon to measure 42 lumps. Grease hands and spoon with cooking spray as needed to prevent sticking, Roll lumps into balls and place 2 inches apart on baking sheets. Press slightly to flatten (so the balls won't roll) and bake on 350 for 15 to 18 minutes. The cookies need to have a milk chocolate colored edge and bottom before they are done. These need to be just this side of too done. And again they are CRUNCHY. These are not meant to be soft gooey cookies!Serving Size: Makes 3.5 Dozen ( 42 cookies) Number of Servings: 42Recipe submitted by SparkPeople user BIGOLEDIVA.
What's The Nutritional Info For RUSTIC COOKIES?
The nutritional information for RUSTIC COOKIES is:
Servings Per Recipe: 42
Amount Per Serving
Calories:

153.9
Total Fat:

9.7 g

Cholesterol:

8.9 mg

Sodium:

78.1 mg

Total Carbs:

17.2 g

Dietary Fiber:

2.0 g

Protein:

2.1 g
More Online Recipes
Appetizers, Soups & Salads, Asian, Beef & Pork, Birthday, Breakfast, Brunch, Christmas, Cookout, Dessert, Dinner, Fish, French, German, Indian, Italian, Kids, Lunch, Mexican, Party, Picnic, Poultry, Salad, Sandwich, Side Dish, Side Items, Slow Cooker, Snack, Soup, Spanish, Thanksgiving, Vegetarian
Online Recipes Of The Day