The recipe "Beef" Stroganoff
"Beef" Stroganoff recipe is a Dinner meal that takes 15 minutes to make. If you enjoy for Dinner, you will like "Beef" Stroganoff!
"Beef" Stroganoff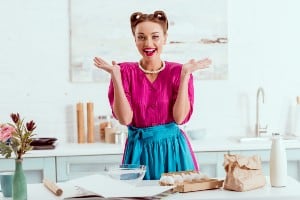 "Beef" Stroganoff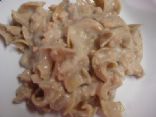 What Are The Ingredients For "Beef" Stroganoff Recipe?
The ingredients for "Beef" Stroganoff are:
1 package (usually just over a pound) of 93/7 ground turkey
2 cubes of beef bullion dissolved in about 3 T of warm water
Onion Powder
Garlic Powder
Lowry's Season Salt
Pepper
2 cans of reduced fat, low sodium cream of mushroom soup
1-8 oz. can of sliced mushrooms, drained
1-8 oz. container of light sour cream
6-8 oz. of No Yolk egg noodles, cooked without fat or salt
How Do I Make "Beef" Stroganoff?
Here is how you make "Beef" Stroganoff:
A about a half hour before dinner, start soaking your bullion in the water. A lot of it will dissolve on its own, and the rest will be so soft enough to easily break apart with the back side of a spoon.In a large skillet over medium high heat, add ground turkey, dissolved bullion, onion powder, garlic powder, Lowry's and pepper. Add the spices to suit your own tastes. The Hubby and I are big fans of garlic, so I go heavy on that (maybe 3/4-1 tsp.), light on the salt (1/4 tsp.?), and somewhere in between on the onion and pepper (1/2 tsp.?). Brown the meat, trying not to crumble the turkey up too much. You'll want bigger chunks, rather than small crumbles. Add cream of mushroom soup and mushrooms, and simmer over medium-low heat until smooth–maybe 5 minutes or so. Remove from heat and stir in sour cream until well blended. Serve over egg noodles.This made 4 servings for us.Number of Servings: 4Recipe submitted by SparkPeople user MYLINDA142.
What's The Nutritional Info For "Beef" Stroganoff?
The nutritional information for "Beef" Stroganoff is:
Servings Per Recipe: 4
Amount Per Serving
Calories:

364.3
Total Fat:

4.8 g

Cholesterol:

53.9 mg

Sodium:

518.4 mg

Total Carbs:

47.0 g

Dietary Fiber:

5.7 g

Protein:

36.5 g
More Online Recipes
Appetizers, Soups & Salads, Asian, Beef & Pork, Birthday, Breakfast, Brunch, Christmas, Cookout, Dessert, Dinner, Fish, French, German, Indian, Italian, Kids, Lunch, Mexican, Party, Picnic, Poultry, Salad, Sandwich, Side Dish, Side Items, Slow Cooker, Snack, Soup, Spanish, Thanksgiving, Vegetarian
Online Recipes Of The Day