The recipe Cabbage Medley
Cabbage Medley recipe is a Dinner meal that takes 60 minutes to make. If you enjoy for Dinner, you will like Cabbage Medley!
Cabbage Medley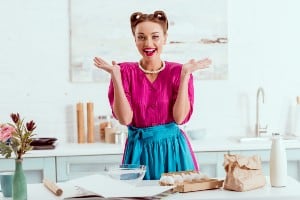 Cabbage Medley
Cabbage based main dish contains a medley of vegetables. Flavored with smoked neck bones or ham adds a pleasing a flavor and aroma.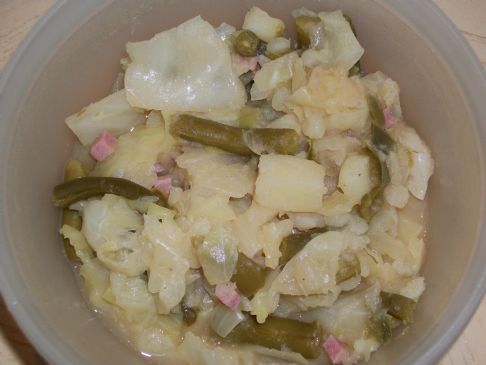 What Are The Ingredients For Cabbage Medley Recipe?
The ingredients for Cabbage Medley are:
Cabbage, fresh, 1 head, large (about 7" dia) chopped in
large pieces (8 wedges then cut in thirds)
Green Peppers (bell peppers), 1 cup, diced
Onion, raw, 1 medium (2-1/2" dia) diced
Season Salt - Morton Season All, 3. tspup
Beef Bouillon Granules o- Wyler's - 1tsp dry, 3 serving
Water, tap, 1.5 cup (8 fl oz) add more if needed
Smoked Pork Neck Bones - 2-3 pieces, 16 oz total
Potato, raw, 3 large (3" to 4-1/4" dia.) cut in 3/4" cubes
Green Beans -Cut - 1 can, (1.75 cup
Farmland 95% Fat Free Cubed Ham, 1-2 cup
How Do I Make Cabbage Medley?
Here is how you make Cabbage Medley:
Using a large pot, add ingredients in order listed. Cook over a medium - high heat until cabbage and potatoes are soft. May add more water as needed. Be careful to not allow it to cook dry; some moisture will collect from the vegetables as they cook down. Stir often. May leave out neck bones for Vegetarians, May add diced ham as an additional item or as a substitute for flavoring.Serving Size: about 5 qts. yield, 1 cup = 1 serving total yield = 16 servingsNumber of Servings: 16Recipe submitted by SparkPeople user WHUPPWILLIS.
What's The Nutritional Info For Cabbage Medley?
The nutritional information for Cabbage Medley is:
Servings Per Recipe: 16
Amount Per Serving
Calories:

162.6
Total Fat:

5.8 g

Cholesterol:

26.3 mg

Sodium:

1,072.4 mg

Total Carbs:

18.6 g

Dietary Fiber:

4.1 g

Protein:

10.0 g
More Online Recipes
Appetizers, Soups & Salads, Asian, Beef & Pork, Birthday, Breakfast, Brunch, Christmas, Cookout, Dessert, Dinner, Fish, French, German, Indian, Italian, Kids, Lunch, Mexican, Party, Picnic, Poultry, Salad, Sandwich, Side Dish, Side Items, Slow Cooker, Snack, Soup, Spanish, Thanksgiving, Vegetarian
Online Recipes Of The Day