The recipe Amy's vegetarian chili
Amy's vegetarian chili recipe is a Dinner meal that takes several minutes to make. If you enjoy for Dinner, you will like Amy's vegetarian chili!
Amy's vegetarian chili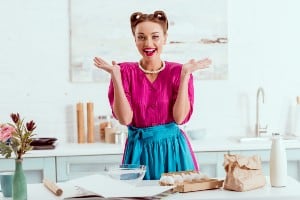 Amy's vegetarian chili
Tasty, healthy, filling chili. I keep mine a little less spicy - feel free to add cayenne or more chili powder, as you dare.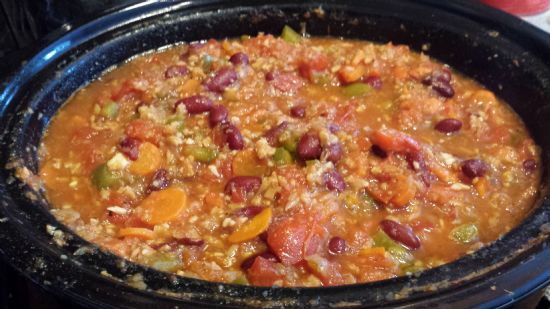 What Are The Ingredients For Amy's vegetarian chili Recipe?
The ingredients for Amy's vegetarian chili are:
1 cup TVP
1cup hot water or vegetable broth
3 T olive oil
4 med onions, chopped
12 cloves garlic, minced
2 teaspoons salt
1 teaspoon black pepper
1 tsp chili powder
2-3 tsp cumin
1/2 tsp cinnamon
3 T brown sugar
15 plum tomatoes, chopped (Can substutute 36-48oz canned diced tomatoes if fresh not in season)
One 40 oz can kidney beans
2 green bell peppers
1 red bell peppers
4 carrots, chopped or thinly sliced
How Do I Make Amy's vegetarian chili?
Here is how you make Amy's vegetarian chili:
Soak TVP in hot liquid x 15 or more minutes. Set aside. Saute onions, carrots, garlic, and TVP in oil until onions are soft and TVP is browned (I usually start the onions 10 minutes before other ingredients, on low to medium heat). Transfer to 6 quart slow cooker. Add all other ingredients. Cook a few hours on high, or all day on low, until veggies are cooked through. Serving Size: Makes 6 quarts, approx. 24 one-cup servingsNumber of Servings: 24Recipe submitted by SparkPeople user IAMWOMAN1.
What's The Nutritional Info For Amy's vegetarian chili?
The nutritional information for Amy's vegetarian chili is:
Servings Per Recipe: 24
Amount Per Serving
Calories:

114.2
Total Fat:

2.1 g

Cholesterol:

0.0 mg

Sodium:

177.8 mg

Total Carbs:

17.8 g

Dietary Fiber:

6.1 g

Protein:

7.6 g
More Online Recipes
Appetizers, Soups & Salads, Asian, Beef & Pork, Birthday, Breakfast, Brunch, Christmas, Cookout, Dessert, Dinner, Fish, French, German, Indian, Italian, Kids, Lunch, Mexican, Party, Picnic, Poultry, Salad, Sandwich, Side Dish, Side Items, Slow Cooker, Snack, Soup, Spanish, Thanksgiving, Vegetarian
Online Recipes Of The Day