The recipe Glengyle Kangaroo Roast (1)
Glengyle Kangaroo Roast (1) recipe is a Dinner meal that takes 90 minutes to make. If you enjoy for Dinner, you will like Glengyle Kangaroo Roast (1)!
Glengyle Kangaroo Roast (1)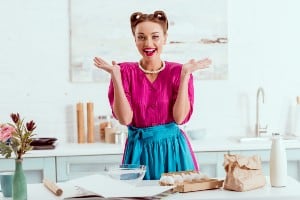 Glengyle Kangaroo Roast (1)
Recipe adapted from The Venison CookBookIn this recipe the meat is cooked right through, rather than being served rare as many recipes recommend. It is moist, tender and full of flavour though!!This would make a complete meal as the vegetables are cooked with the meat. Steamed vegetable could be added on dishing up if liked.Although I have used Kangaroo for this dish because of the nutritional value and low fat, low calorie properties, beef, lamb or venison could be used. The nutritional values would have to be recalculated though!!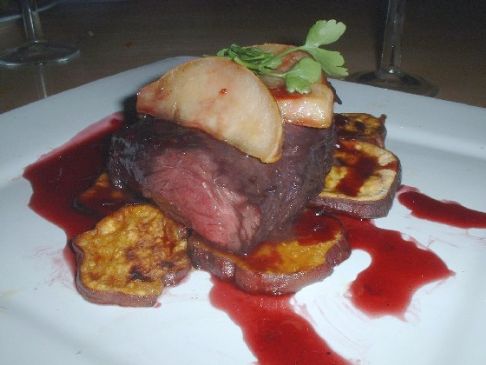 What Are The Ingredients For Glengyle Kangaroo Roast (1) Recipe?
The ingredients for Glengyle Kangaroo Roast (1) are:
Mini Kangaroo Roast, (550g) (marinated or not)
3 rashers bacon, trimmed of most of the fat and rind
1 cup dry red wine (Lambrusca, Shiraz)
1 cup low sodium beef stock or water
Black pepper to taste
1 slice wholemeal bread processed into breadcrumbs
2 tsp cornflour
2 tsp white vinegar
pinch sugar( optional)
1 tsp ground rosemary
2 cloves
1tsp cinnamon
1 tsp ground ginger
2 sm carrots, Cut in half, then into 1" lengths
1 med onion, cut in slices
2 sticks celery, in 2" lengths
250g butternut pumpkin, skin on, cut in 1" cubes
250g sweet potato, skin on, cut in 1" cubes
300g sliced large mushrooms or halved button mushrooms
How Do I Make Glengyle Kangaroo Roast (1)?
Here is how you make Glengyle Kangaroo Roast (1):
Preheat oven 170CPut the meat into the roasting dish.Spread the bacon over the meatPlace the carrot, onion, pumpkin, sweet potato, mushrooms and celery round the base of the meat in the dish.In a small pan, mix the wine, stock, ginger, cinnamon, and cloves, . Add black pepper to taste.Bring to the boil, then pour over the meat and vegetables in the roasting dish.Cover very firmly with foil. Ensure the foil is sealed round all edges of the dish to completely enclose the meat, vegetables and sauce.(or use an oven proof dish with a well fitting lid)Cook for 1hr - 1 1/4hrs (until cooked)When cooked, remove meat and vegetables from the juices and stand, covered in a warm place.Reserve 1 1/2 cups of liquid. (if there isn't enough add water to make up to required quantity)In a small bowl , blend cornflour and breadcrumbs, then slowly add 1/2 cup reserved cooking juices and the vinegar.Return to the pan with the rest of the juices. Bring to the boil, stirring until boiled and thickened.Check and correct seasoning.Serve sauce with the thinly sliced meat. and vegetables.500g roasting joint will serve 4 people.Number of Servings: 4Recipe submitted by SparkPeople user EMMABE1.
More Online Recipes
Appetizers, Soups & Salads, Asian, Beef & Pork, Birthday, Breakfast, Brunch, Christmas, Cookout, Dessert, Dinner, Fish, French, German, Indian, Italian, Kids, Lunch, Mexican, Party, Picnic, Poultry, Salad, Sandwich, Side Dish, Side Items, Slow Cooker, Snack, Soup, Spanish, Thanksgiving, Vegetarian
Online Recipes Of The Day