The recipe Dutch Oven Pot Roast
Dutch Oven Pot Roast recipe is a Dinner meal that takes several minutes to make. If you enjoy for Dinner, you will like Dutch Oven Pot Roast!
Dutch Oven Pot Roast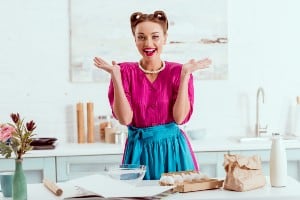 Dutch Oven Pot Roast
Also needed: Dutch Oven, 20-22 briquettes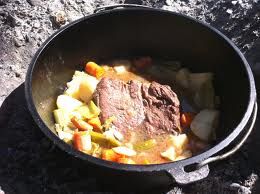 What Are The Ingredients For Dutch Oven Pot Roast Recipe?
The ingredients for Dutch Oven Pot Roast are:
2 Tbsp. Olive Oil
2 Tsp. Dry Rosemary
2 Med. Onions, Sliced
5 Cloves Garlic, Sliced
1 Cup Hot Beef Broth
1/4 Cup Honey Barbecue Sauce
2 Tbsp. Red Wine Vinegar
1 Tbsp. Balsamic Vinegar
3 Tbsp. Brown Sugar
1 Tbsp. Soy Sauce
1 Bay Leaf, Crushed
1 Tsp. Black Pepper
1 lb. Baby Carrots, Raw
6-8 Med Red Potatoes, cut into chunks
1 Tsp. Thyme
1 Tbsp. Parsley Flakes
How Do I Make Dutch Oven Pot Roast?
Here is how you make Dutch Oven Pot Roast:
Serves 8-10Heat a 12" deep Dutch Oven using 20-22 briquettes underneath until the oven is hot. Add Olive Oil, Rosemary and Onions; cook 2-3 minutes. Add Garlic; cook 1 minute. In separate bowl, combine Beef Broth, Barbecue Sauce, Red Wine Vinegar, Balsamic Vinegar, Brown Sugar, Soy Sauce, Bay Leaf and Black Pepper; stir to mix. Pour slowly into Dutch Oven. Add Roast to oven and cover with Onions. Replace lid and reduce briquettes to 10 beneath oven. Add remaining briquettes to lid. Cook for 20 minutes, rotating oven every 10 minutes. Add Carrots and Potatoes. Season with Thyme and Parsley Flakes. Replace lid and continue baking for additional 60 - 80 minutes until vegetables are tender. Number of Servings: 10Recipe submitted by SparkPeople user RASMITH0506.
What's The Nutritional Info For Dutch Oven Pot Roast?
The nutritional information for Dutch Oven Pot Roast is:
Servings Per Recipe: 10
Amount Per Serving
Calories:

290.9
Total Fat:

8.1 g

Cholesterol:

81.6 mg

Sodium:

354.8 mg

Total Carbs:

22.5 g

Dietary Fiber:

2.2 g

Protein:

31.1 g
More Online Recipes
Appetizers, Soups & Salads, Asian, Beef & Pork, Birthday, Breakfast, Brunch, Christmas, Cookout, Dessert, Dinner, Fish, French, German, Indian, Italian, Kids, Lunch, Mexican, Party, Picnic, Poultry, Salad, Sandwich, Side Dish, Side Items, Slow Cooker, Snack, Soup, Spanish, Thanksgiving, Vegetarian
Online Recipes Of The Day