The recipe Chicken Gyro Salad
Chicken Gyro Salad recipe is a Lunch meal that takes 20 minutes to make. If you enjoy for Lunch, you will like Chicken Gyro Salad!
Chicken Gyro Salad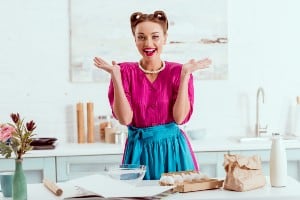 Chicken Gyro Salad
Add a little zest to your brunch with this tasty Gyro salad. Low on fat of packed with flavor.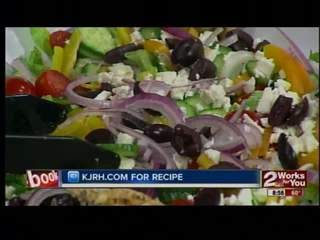 What Are The Ingredients For Chicken Gyro Salad Recipe?
The ingredients for Chicken Gyro Salad are:
Seasoning Mixture Ingredients:
Onion powder, 1 tbsp
Garlic (Minced) 1 tbsp
Fresh Oregano, 1 tbsp
Fresh Rosemary 1 tbsp
Ground Cumin 1 tsp
Marjoram, dried, 1 tsp
Thyme, fresh 1 tsp
Paprika, 1 tsp
Pepper, black, 1 tsp
Salt, 1 dash
Limes, 2 fruit (2" dia)
Extra Virgin Olive Oil, 1 tbsp
Chobani 0% Plain Greek Yogurt 1.5 cups
Cucumber (with peel), 1 cucumber (8-1/4")
2 Heads of Romaine Lettuce
Sliced Red Bell Pepper, Raw-1 large
Kalamata, Greek Olives, pitted, 1/2 cup
Sliced Red Onions, raw, 1/2 medium
Feta Cheese, 1/2 cup, crumbled
Cherry Tomatoes, Fresh, 20
2 lbs Sliced Chicken Breast, no skin
How Do I Make Chicken Gyro Salad?
Here is how you make Chicken Gyro Salad:
Add seasoning mixture ingredients and stir to combine. Combine 1/2 seasoning mixture with the Juice of 2 limes and olive oil. Marinate chicken with marinade for 30 minutes or longer in a Ziplock. Heat indoor grill pan or outdoor grill over high heat. Remove chicken from marinade and discard marinade. Grill chicken on one side until golden brown, about 3 to 4 minutes. Turn chicken over and cook to medium-rare, about 3 to 4 minutes more. Let stand for 5 minutes then slice thinly against the grain. In separate bowl combine other 1/2 of seasoning mixture with Greek Yogurt and 1/4 Cucumber Shredded. Set Aside. In salad bowl toss lettuce, chopped cucumber, red peppers, olives, onion, tomatoes and feta. Divide salad evenly among plates, top with chicken. Drizzle with dressing. Serve with a side of toasted Pita Triangles.Serving Size: 1/4 of Salad and 1/4 chickenNumber of Servings: 4Recipe submitted by SparkPeople user JULWHEELER.
What's The Nutritional Info For Chicken Gyro Salad?
The nutritional information for Chicken Gyro Salad is:
Servings Per Recipe: 4
Amount Per Serving
Calories:

292.4
Total Fat:

14.3 g

Cholesterol:

37.3 mg

Sodium:

695.4 mg

Total Carbs:

23.3 g

Dietary Fiber:

5.2 g

Protein:

21.1 g
More Online Recipes
Appetizers, Soups & Salads, Asian, Beef & Pork, Birthday, Breakfast, Brunch, Christmas, Cookout, Dessert, Dinner, Fish, French, German, Indian, Italian, Kids, Lunch, Mexican, Party, Picnic, Poultry, Salad, Sandwich, Side Dish, Side Items, Slow Cooker, Snack, Soup, Spanish, Thanksgiving, Vegetarian
Online Recipes Of The Day