The recipe Chicken Salad Cups
Chicken Salad Cups recipe is a Lunch meal that takes several minutes to make. If you enjoy for Lunch, you will like Chicken Salad Cups!
Chicken Salad Cups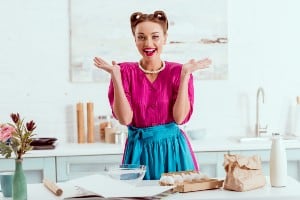 Chicken Salad Cups
Try sizing recipe to make entire can of biscuits and individually freeze. To quickly grab one and pack a salad to take to work.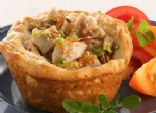 What Are The Ingredients For Chicken Salad Cups Recipe?
The ingredients for Chicken Salad Cups are:
3/4 cup chopped cooked chicken
2 tablespoons shredded Cheddar cheese
2 teaspoons chopped toasted sliced almonds
2 teaspoons chopped green onions
1 tablespoon mayonnaise
Dash ground ginger
2 Pillsbury® Perfect Portions® refrigerated buttermilk biscuits (twin pack from 15.4-oz package)
Sesame seed, if desired
How Do I Make Chicken Salad Cups?
Here is how you make Chicken Salad Cups:
1. Heat oven to 375°F. Spray 2 jumbo muffin cups with cooking spray. In small bowl, stir chicken, cheese, almonds, onions, mayonnaise and ginger until well blended. 2. Press each biscuit to cover bottom and side of muffin cup. Spoon chicken mixture into biscuit cups. Sprinkle with sesame seed. 3. Bake 16 to 21 minutes or until edges are deep golden brown. Number of Servings: 2Recipe submitted by SparkPeople user REDHKIRK.
What's The Nutritional Info For Chicken Salad Cups?
The nutritional information for Chicken Salad Cups is:
Servings Per Recipe: 2
Amount Per Serving
Calories:

360.4
Total Fat:

15.3 g

Cholesterol:

48.7 mg

Sodium:

653.7 mg

Total Carbs:

33.0 g

Dietary Fiber:

1.3 g

Protein:

22.7 g
More Online Recipes
Appetizers, Soups & Salads, Asian, Beef & Pork, Birthday, Breakfast, Brunch, Christmas, Cookout, Dessert, Dinner, Fish, French, German, Indian, Italian, Kids, Lunch, Mexican, Party, Picnic, Poultry, Salad, Sandwich, Side Dish, Side Items, Slow Cooker, Snack, Soup, Spanish, Thanksgiving, Vegetarian
Online Recipes Of The Day