The recipe Crispy Salmon Tacos
Crispy Salmon Tacos recipe is a Mexican Dinner meal that takes 10 minutes to make. If you enjoy Mexican for Dinner, you will like Crispy Salmon Tacos!
Crispy Salmon Tacos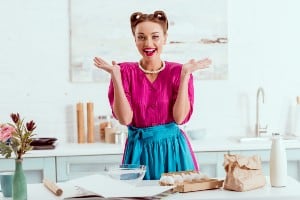 Crispy Salmon Tacos
This is one of two recipes that I made last week after broiling a big piece of salmon just for moi. The other was a brown rice salmon salad that I will be posting next. With just a few simple, yet very fresh ingredients, this recipe takes your average fish tacos to a whole other level.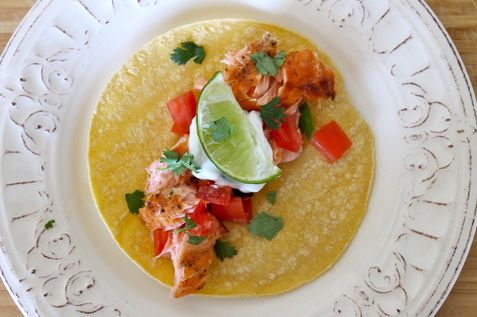 How Do I Make Crispy Salmon Tacos?
Here is how you make Crispy Salmon Tacos:
1. Preheat the broiler to the highest setting. Pat the salmon dry with a paper towel and lay it flat on a baking sheet. Sprinkle the top with the chili powder, salt and freshly ground back pepper. Cook under the broiler until it's browned, crispy and cooked through, about 10 minutes. Remove from the oven and set aside.2. Meanwhile, in a small bowl, whisk together the yogurt, the juice of half of the lime, and a pinch of salt and pepper, until smooth.3. Heat the corn tortillas in the microwave or on a dry non-stick over medium-high heat until warm and pliable. 4. Use a fork to pull apart the salmon. Serve over corn tortillas and top with chopped tomatoes and the yogurt "cream." Garnish with cilantro and lime wedges sliced from the remaining half of the lime.Serving Size: Makes 6 tacosNumber of Servings: 2Recipe submitted by SparkPeople user THEFITCOOK.
What's The Nutritional Info For Crispy Salmon Tacos?
The nutritional information for Crispy Salmon Tacos is:
Servings Per Recipe: 2
Amount Per Serving
Calories:

425.4
Total Fat:

11.6 g

Cholesterol:

83.0 mg

Sodium:

130.4 mg

Total Carbs:

41.0 g

Dietary Fiber:

5.2 g

Protein:

39.2 g
More Online Recipes
Appetizers, Soups & Salads, Asian, Beef & Pork, Birthday, Breakfast, Brunch, Christmas, Cookout, Dessert, Dinner, Fish, French, German, Indian, Italian, Kids, Lunch, Mexican, Party, Picnic, Poultry, Salad, Sandwich, Side Dish, Side Items, Slow Cooker, Snack, Soup, Spanish, Thanksgiving, Vegetarian
Online Recipes Of The Day