The recipe Large Batch Salsa
Large Batch Salsa recipe is a Mexican Snack meal that takes several minutes to make. If you enjoy Mexican for Snack, you will like Large Batch Salsa!
Large Batch Salsa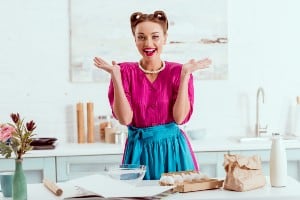 Large Batch Salsa
There is a Mexican restaurant that we love going to that has an amazing salsa. This is the home version of that delicious salsa!Please note that this makes an enormous amount of salsa - 11 1/2 cups!!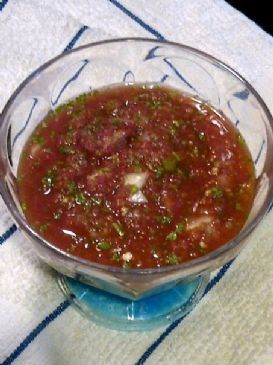 What Are The Ingredients For Large Batch Salsa Recipe?
The ingredients for Large Batch Salsa are:
1 #10 can diced tomatoes in juice
2 sweet onions (400g)
3 tbs garlic, diced
2 medium jalapeno peppers (35g)
2 small serrano peppers, seeds and ribs removed (15g)
1 1/2 cup fresh cilantro
2 small limes
1 1/2 tsp sea salt
2 tsp chili powder
How Do I Make Large Batch Salsa?
Here is how you make Large Batch Salsa:
Finely dice 1/2 of a sweet onion and set aside.Drain the tomatoes, reserving the juice.Coarsely chop the remaining onions, jalapenos, serranos, and cilantro.Zest the limes and squeeze their juice.In a food processor add some tomatoes, onions, garlic, jalapeno, serrano, cilantro, lime zest, lime juice, salt and chili powder.Process until the texture desired.I like mine without any large chunks but where you can still see the different colors.Continue to process in batches until all ingredients except the reserved finely diced onions have been used.Combine the processed salsa with the finely diced onions. Taste and adjust seasonings as necessary.Serving Size: 46 servings of 1/4 cup eachNumber of Servings: 46Recipe submitted by SparkPeople user SLCOLMAN.
What's The Nutritional Info For Large Batch Salsa?
The nutritional information for Large Batch Salsa is:
Servings Per Recipe: 46
Amount Per Serving
Calories:

16.1
Total Fat:

0.0 g

Cholesterol:

0.0 mg

Sodium:

168.5 mg

Total Carbs:

3.4 g

Dietary Fiber:

0.7 g

Protein:

0.2 g
More Online Recipes
Appetizers, Soups & Salads, Asian, Beef & Pork, Birthday, Breakfast, Brunch, Christmas, Cookout, Dessert, Dinner, Fish, French, German, Indian, Italian, Kids, Lunch, Mexican, Party, Picnic, Poultry, Salad, Sandwich, Side Dish, Side Items, Slow Cooker, Snack, Soup, Spanish, Thanksgiving, Vegetarian
Online Recipes Of The Day