The recipe Fresh Garden Salsa-For Canning
Fresh Garden Salsa-For Canning recipe is a Mexican Snack meal that takes 20 minutes to make. If you enjoy Mexican for Snack, you will like Fresh Garden Salsa-For Canning!
Fresh Garden Salsa-For Canning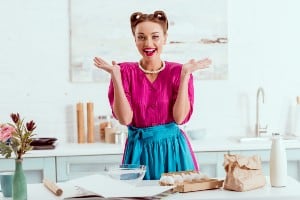 Fresh Garden Salsa-For Canning
Great way to use those tomatoes and peppers in the summer.When we open a pint, it's gone!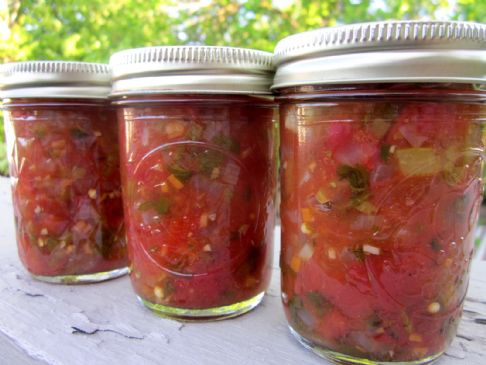 What Are The Ingredients For Fresh Garden Salsa-For Canning Recipe?
The ingredients for Fresh Garden Salsa-For Canning are:
9 c. diced tomatoes- fresh red ripe, but not mushy ( 16-18 med. sized)
3 c. EACH finely diced onions and bell pepper (all colors fine)
1/4 c. Jalapeno peppers
1-2 cloves finely chopped or minced garlic
1 c. white distilled vinegar
1/4 c. sugar or splenda
1 Tbsp garlic salt
1 Tsp black pepper
How Do I Make Fresh Garden Salsa-For Canning?
Here is how you make Fresh Garden Salsa-For Canning:
prepare 8 pint jars-get cleaned and hotwith rings and lids hotUse all plastic utensils and bowls (or glass) You need a jar lifter, jar filler, etc..Peel tomatoes by dropping them (cored) in boiling water for about 30 seconds. Skin peels right off.Dice them larger than the other vegetables (I used the larger dice of the Vidalia Magic Chopper)Prepare the peppers and onions. (I used the small dice of the chopper)Heat vinegar and sugar in a large stock pot until sugar dissolves.Add all other ingredients.Heat until the onions are almost transparent. Taste juice for seasoning. Adjust to preference.Fill jars leaving 1/2" head space. Use a plastic spoon handle to get out any air bubbles, wipe rim, put on lid and ring finger tight.Separate jars to let cool. Check after 24 hours to make sure lids sealed. (Press down on center-it shouldn't move.)I tripled the recipe and added 1/4 c. extra sugar and ended up with 21 pints. You can use quarts instead, but refrigerate after opening. We like pints because we eat the whole thing at once. The entire jar is only 120 calories. Less if you use Splenda. Serving Size:?makes 32 1/2 cup servings (8 pints)Number of Servings: 32Recipe submitted by SparkPeople user GAYLED67.
More Online Recipes
Appetizers, Soups & Salads, Asian, Beef & Pork, Birthday, Breakfast, Brunch, Christmas, Cookout, Dessert, Dinner, Fish, French, German, Indian, Italian, Kids, Lunch, Mexican, Party, Picnic, Poultry, Salad, Sandwich, Side Dish, Side Items, Slow Cooker, Snack, Soup, Spanish, Thanksgiving, Vegetarian
Online Recipes Of The Day