T ~ Beef Soup recipe is a Soup meal that takes 120 minutes to make. If you enjoy for Soup, you will like T ~ Beef Soup!
T ~ Beef Soup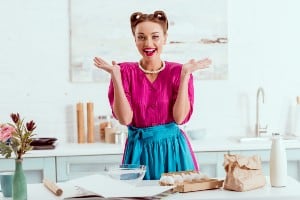 T ~ Beef Soup
Options: add potatoes, make soup into stew by adding Wondera, flour or other ingredients to thicken.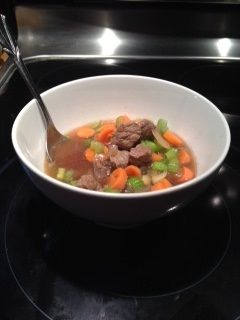 What Are The Ingredients For T ~ Beef Soup Recipe?
The ingredients for T ~ Beef Soup are:
Beef Lean Stew Meat, 20 oz
Carrots, raw, 1 cup, chopped
Celery, raw, 2 cup, diced
Onion, raw 2 cup
Beef Bouillon with water, 4 cup
Salt, 2 tsp
Pepper, black, 1 tsp
Garlic powder, 1 tsp
How Do I Make T ~ Beef Soup?
Here is how you make T ~ Beef Soup:
Cut off as much fat as possible from stew meat and cut into spoon size pieces. Chop carrots, celery, and onion. Heat pan to medium high, add 2 tsp Olive Oil, stew meat, salt, pepper, and garlic powder. Brown meat until a dark brown color appears (seared) then turn over and brown the other side. Add onion, brown additional 2 minutes. Add bouillon. Transfer to crock pot if desired. Add carrots and celery (optional potatoes). Simmer at least 2 hours. Serving Size: makes 8 1-cup servingsNumber of Servings: 8Recipe submitted by SparkPeople user T-DAILY-GOAL-10.
What's The Nutritional Info For T ~ Beef Soup?
The nutritional information for T ~ Beef Soup is:
Servings Per Recipe: 8
Amount Per Serving
Calories:

252.6
Total Fat:

14.6 g

Cholesterol:

65.0 mg

Sodium:

1,281.4 mg

Total Carbs:

6.8 g

Dietary Fiber:

1.7 g

Protein:

22.4 g
More Online Recipes
Appetizers, Soups & Salads, Asian, Beef & Pork, Birthday, Breakfast, Brunch, Christmas, Cookout, Dessert, Dinner, Fish, French, German, Indian, Italian, Kids, Lunch, Mexican, Party, Picnic, Poultry, Salad, Sandwich, Side Dish, Side Items, Slow Cooker, Snack, Soup, Spanish, Thanksgiving, Vegetarian
Online Recipes Of The Day