The recipe Tricolor Beef Soup
Tricolor Beef Soup recipe is a Soup meal that takes 15 minutes to make. If you enjoy for Soup, you will like Tricolor Beef Soup!
Tricolor Beef Soup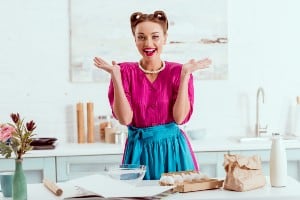 Tricolor Beef Soup
Filling, full meal deal when divided into two servings. can be used as 4 small appetizer servings also, but why bother with all that fuss?!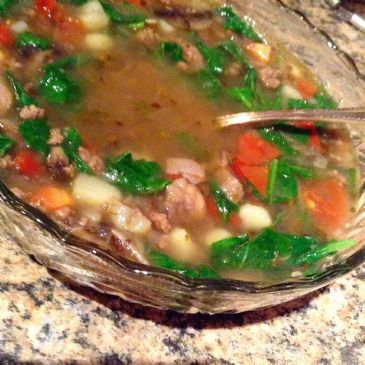 What Are The Ingredients For Tricolor Beef Soup Recipe?
The ingredients for Tricolor Beef Soup are:
Add 8 oz of 90% lean ground beef to heavy bottom stock pot. Brown it & break it up. Add chopped onions to this. When the 1/2 C onion is clear, add 1 1/4 C of chopped fresh mushrooms Stir these together.
Add 1 Tbs each of parsley &powdered garlic. Add 1/2 tsp cayenne pepper. Add 6 C water to the pot & stir.
When the water is boiling, add 1 C of diced potatoes (uncooked, raw--baked potatoes will make the soup like a cream based soup). When the water returns to a boil, turn it down to a slow roll. Dice the 2 tomatoes & add to the pot. Add 1 cube beef bouillon. (Omit this if on a salt restricted diet).
Cook till the potatoes are tender. Remove from heat. Add 6 oz fresh baby spinach to the pot, a few ounces at a time. Serve with cheese (exta).
How Do I Make Tricolor Beef Soup?
Here is how you make Tricolor Beef Soup:
Brown meat & onions in soup pot. Pour water over this. Add other ingredients & return to boil. Simmer until al dente. Then add spinach. Serve. Serving Size: Makes 2 large bowls or 4 small cup size servings Number of Servings: 2Recipe submitted by SparkPeople user REVCORNIE.
What's The Nutritional Info For Tricolor Beef Soup?
The nutritional information for Tricolor Beef Soup is:
Servings Per Recipe: 2
Amount Per Serving
Calories:

378.4
Total Fat:

13.8 g

Cholesterol:

101.3 mg

Sodium:

725.2 mg

Total Carbs:

23.9 g

Dietary Fiber:

4.8 g

Protein:

37.5 g
More Online Recipes
Appetizers, Soups & Salads, Asian, Beef & Pork, Birthday, Breakfast, Brunch, Christmas, Cookout, Dessert, Dinner, Fish, French, German, Indian, Italian, Kids, Lunch, Mexican, Party, Picnic, Poultry, Salad, Sandwich, Side Dish, Side Items, Slow Cooker, Snack, Soup, Spanish, Thanksgiving, Vegetarian
Online Recipes Of The Day