The recipe Apple Vanilla Raisin Oatmeal
Apple Vanilla Raisin Oatmeal recipe is a Breakfast meal that takes 30 minutes to make. If you enjoy for Breakfast, you will like Apple Vanilla Raisin Oatmeal!
Apple Vanilla Raisin Oatmeal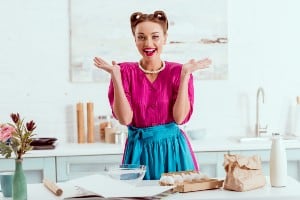 Apple Vanilla Raisin Oatmeal
a creamy, filling, healthy, and delicious oatmeal... great served with a bit of honey drizzled on top! Soaking the oats overnight is important for health, and it also makes them cook faster, so be sure not to skip, if you can help it!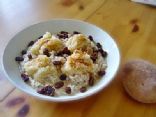 What Are The Ingredients For Apple Vanilla Raisin Oatmeal Recipe?
The ingredients for Apple Vanilla Raisin Oatmeal are:
1/2 cup dry steel cut oats
2 cups water, divided
1/2 tsp lemon juice or 1 tbsp whey, yogurt, or other lacto-fermented product
2 french vanilla tea bags
1 apple (tart or sweet, whichever your preference for cooking), chopped into bite size chunks
2 tbsp raisins
2 tbsp golden raisins (or just use a total of 4 tbsp regular raisins)
1/3 cup fresh cow or goat's milk or cream, to serve
How Do I Make Apple Vanilla Raisin Oatmeal?
Here is how you make Apple Vanilla Raisin Oatmeal:
The night before, bring 2 cups of water to a boil. Steep tea (remove caffeine if desired. see instructions below.) in water and set aside to cool to room temperature. When tea reaches room temp, pour 1 cup of it into a jar or container and stir in the oats and lemon juice or whey. Cover and let soak in fridge overnight. In the morning, bring the remaining cup of tea to a boil in a small/medium saucepan. When it boils, stir in the soaked oats and their soaking water and return to a boil. Reduce heat and cook for 15-25 minutes, until oats are thick and creamy. Add apples and raisins and stir to heat through. Spoon into bowls and top each with a little bit of milk or cream, if desired. Serve with a piece of fresh fruit such as an orange, strawberries, or grapes, or with a cup of fresh juice for a complete breakfast meal, since it's fairly low in calories. Also great with a little bit of raw honey stirred in if you like it sweeter! Serves 3, about 1 cup each. Number of Servings: 3Recipe submitted by SparkPeople user PESCETARIAN.
More Online Recipes
Appetizers, Soups & Salads, Asian, Beef & Pork, Birthday, Breakfast, Brunch, Christmas, Cookout, Dessert, Dinner, Fish, French, German, Indian, Italian, Kids, Lunch, Mexican, Party, Picnic, Poultry, Salad, Sandwich, Side Dish, Side Items, Slow Cooker, Snack, Soup, Spanish, Thanksgiving, Vegetarian
Online Recipes Of The Day