The recipe Kinda Caponata
Kinda Caponata recipe is a Italian Dinner meal that takes 50 minutes to make. If you enjoy Italian for Dinner, you will like Kinda Caponata!
Kinda Caponata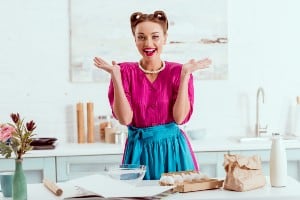 Kinda Caponata
This rich-tasting, sweet and sour appetizer is full of tender, roasted eggplant and zucchini, the barest touch of espresso coffee and a pop from melted chocolate, cacao nibs and unsweetened cocoa powder! Inspired by Zazu restaurant.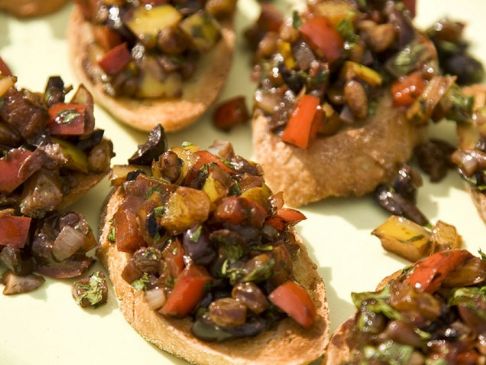 What Are The Ingredients For Kinda Caponata Recipe?
The ingredients for Kinda Caponata are:
2 eggplants (about 2 1/2 lbs total), diced into 1" cubes
1 large zucchini, diced into 1" cubes
2 tbsp olive oil, divided
4 cloves garlic, minced
1 shallot, finely sliced
1/4 cup red wine
28-oz canned diced tomatoes
1 large red bell pepper, diced
3 large stalks celery, diced
2 large carrots, diced
1/2 tsp espresso-grind coffee
1/2 tbsp cocoa powder
1 oz bittersweet (about 65%) chocolate, chopped
1/3 cup balsamic vinegar
1/3 cup sultana raisins, soaked in boiling water and drained
2 tbsp sesame seeds
1 tbsp cacao nibs
1/2 cup chopped flat leaf parsley
kosher salt and freshly ground black pepper
How Do I Make Kinda Caponata?
Here is how you make Kinda Caponata:
Preheat oven to 450?F and line a baking sheet with parchment paper. Toss eggplant and zucchini cubes with 1 tbsp oil, salt and pepper to taste, spread on the sheet.Roast, stirring once, about 40 minutes.Heat remaining tbsp of oil in a non-stick skillet and saute the garlic and shallot for 2 minutes. Stir in red wine, tomatoes, red pepper, celery, carrots, espresso and cocoa powder. Cook, stirring occasionally, 30 minutes, then add eggplant, zucchini and chocolate.Cook, stirring, until chocolate is melted. Pour into a large serving bowl and add vinegar, raisins, sesame seeds, cacao nibs and parsley, tossing well.Serve warm or room temperature.Number of Servings: 8Recipe submitted by SparkPeople user JO_JO_BA.
What's The Nutritional Info For Kinda Caponata?
The nutritional information for Kinda Caponata is:
Servings Per Recipe: 8
Amount Per Serving
Calories:

181.4
Total Fat:

6.9 g

Cholesterol:

0.0 mg

Sodium:

244.7 mg

Total Carbs:

26.4 g

Dietary Fiber:

6.8 g

Protein:

4.2 g
More Online Recipes
Appetizers, Soups & Salads, Asian, Beef & Pork, Birthday, Breakfast, Brunch, Christmas, Cookout, Dessert, Dinner, Fish, French, German, Indian, Italian, Kids, Lunch, Mexican, Party, Picnic, Poultry, Salad, Sandwich, Side Dish, Side Items, Slow Cooker, Snack, Soup, Spanish, Thanksgiving, Vegetarian
Online Recipes Of The Day