The recipe Glace Cherry Shortbreads
Glace Cherry Shortbreads recipe is a Dessert meal that takes 8 minutes to make. If you enjoy for Dessert, you will like Glace Cherry Shortbreads!
Glace Cherry Shortbreads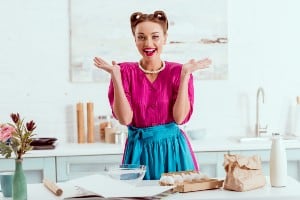 Glace Cherry Shortbreads
Adapted from Anna Olson, these are very much the Christmas cookie - studded throughout with gorgeously bright and clear candied cherries. You can't use maraschinos in syrup for this - look for the dry-packed glace kind. Store in an airtight container for up to 2 weeks or freeze up to 3 months.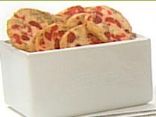 What Are The Ingredients For Glace Cherry Shortbreads Recipe?
The ingredients for Glace Cherry Shortbreads are:
2/3 cup salted butter, softened
1/4 cup low-fat cream cheese, softened
1 cup icing sugar, sifted
1 egg
1 tsp vanilla
1/2 tsp lemon extract
1 1/4 cups flour
1 cup cake flour
10 oz glace cherries (red or green), cut in half
How Do I Make Glace Cherry Shortbreads?
Here is how you make Glace Cherry Shortbreads:
Cream butter, cream cheese and icing sugar until fluffy. Beat in egg, vanilla and lemon extract. Stir flours into the butter mixture until well blended. Fold in cherries by hand. Divide dough into three logs, about 1" across.Wrap in plastic and refrigerate at least 12 hours (alternately, wrap plactic-covered logs with foil and freeze up to 3 months).Preheat oven to 325 F. Line a baking tray with parchment or a Silpat (do not grease - buy the parchment, you'll want it!).Cut 1/8" thick slices of the cookie dough, place on sheets 1" apart. Bake 8 minutes (or frozen dough for 12), until barely coloured.Cool completely on sheets.Number of Servings: 48Recipe submitted by SparkPeople user JO_JO_BA.
What's The Nutritional Info For Glace Cherry Shortbreads?
The nutritional information for Glace Cherry Shortbreads is:
Servings Per Recipe: 48
Amount Per Serving
Calories:

78.4
Total Fat:

3.0 g

Cholesterol:

11.9 mg

Sodium:

27.8 mg

Total Carbs:

11.9 g

Dietary Fiber:

0.2 g

Protein:

1.1 g
More Online Recipes
Appetizers, Soups & Salads, Asian, Beef & Pork, Birthday, Breakfast, Brunch, Christmas, Cookout, Dessert, Dinner, Fish, French, German, Indian, Italian, Kids, Lunch, Mexican, Party, Picnic, Poultry, Salad, Sandwich, Side Dish, Side Items, Slow Cooker, Snack, Soup, Spanish, Thanksgiving, Vegetarian
Online Recipes Of The Day