The recipe Chicken and Asparagus
Chicken and Asparagus recipe is a Dinner meal that takes 20 minutes to make. If you enjoy for Dinner, you will like Chicken and Asparagus!
Chicken and Asparagus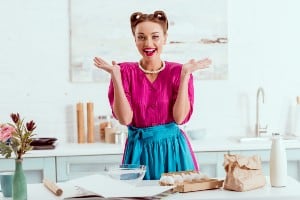 Chicken and Asparagus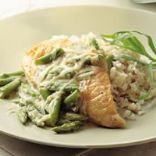 What Are The Ingredients For Chicken and Asparagus Recipe?
The ingredients for Chicken and Asparagus are:
Ingredients
8 ounce(s) asparagus, trimmed and cut into 1-inch pieces 2/3 cup(s) broth, reduced-sodium chicken 4 2/3 tablespoon flour, all-purpose, divided 4 piece(s) chicken, breast, boneless, skinless, trimmed, (1 - 1 1/4 pounds) 1/4 teaspoon salt 1/2 teaspoon pepper, black ground, freshly ground 1 tablespoon oil, canola 1 medium shallot(s), thinly sliced 1/2 cup(s) wine, white 1/3 cup(s) sour cream, reduced-fat 1 tablespoon tarragon, fresh, chopped 2 teaspoon lemon juice 2/3 cup(s) cheese, gruyere, shredded
How Do I Make Chicken and Asparagus?
Here is how you make Chicken and Asparagus:
Preparation1. Place a steamer basket in a large saucepan, add 1 inch of water and bring to a boil. Add asparagus; cover and steam for 3 minutes. Uncover, remove from the heat and set aside.2. Whisk broth and 2 teaspoons flour in a small bowl until smooth. Set aside.3. Place the remaining 1/4 cup flour in a shallow dish. Sprinkle chicken with salt and pepper and dredge both sides in the flour, shaking off any excess.4. Heat oil in a large skillet over medium heat. Add the chicken and cook until golden brown, 3 to 4 minutes per side, adjusting heat as needed to prevent scorching. Transfer to a plate and cover to keep warm.5. Add shallot, wine and the reserved broth mixture to the pan; cook over medium heat, stirring, until thickened, about 2 minutes. Reduce heat to medium-low; stir in sour cream, tarragon, lemon juice and the reserved asparagus until combined. Return the chicken to the pan and turn to coat with the sauce. Sprinkle cheese on top of each piece of chicken, cover and continue cooking until the cheese is melted, about 2 minutes. Number of Servings: 4Recipe submitted by SparkPeople user KLBRZE.
What's The Nutritional Info For Chicken and Asparagus?
The nutritional information for Chicken and Asparagus is:
Servings Per Recipe: 4
Amount Per Serving
Calories:

176.5
Total Fat:

10.1 g

Cholesterol:

21.2 mg

Sodium:

106.6 mg

Total Carbs:

11.9 g

Dietary Fiber:

1.1 g

Protein:

6.6 g
More Online Recipes
Appetizers, Soups & Salads, Asian, Beef & Pork, Birthday, Breakfast, Brunch, Christmas, Cookout, Dessert, Dinner, Fish, French, German, Indian, Italian, Kids, Lunch, Mexican, Party, Picnic, Poultry, Salad, Sandwich, Side Dish, Side Items, Slow Cooker, Snack, Soup, Spanish, Thanksgiving, Vegetarian
Online Recipes Of The Day