The recipe H.G's Dan-Good Chili
H.G's Dan-Good Chili recipe is a Soup meal that takes 145 minutes to make. If you enjoy for Soup, you will like H.G's Dan-Good Chili!
H.G's Dan-Good Chili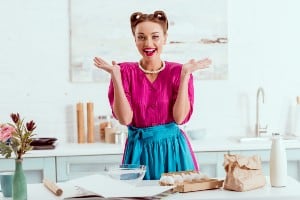 H.G's Dan-Good Chili
PointsPlus? value 3*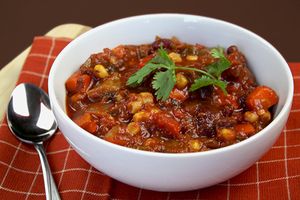 What Are The Ingredients For H.G's Dan-Good Chili Recipe?
The ingredients for H.G's Dan-Good Chili are:
1.5 tbsp Chili powder
1.0 tsp Cumin seed
1.8 cup, chopped Carrots, raw
1.5 cup, pieces or slices Mushrooms, fresh
4.4 cup Tomato Sauce
1.0 cup Tomato Sauce, with onions, green peppers, and celery
3.0 cup Beans, pinto
1.0 cup Del Monte Diced Tomatoes, No Salt Added
2.0 serving Yellow Bell Pepper, 1 serving equals 1.8 oz or about 10 strips
2.0 serving Veggie - Chopped Garlic - Canada Garlic Inc Brand
2.0 serving 1 cup onion chopped
1.0 cup Libbys Whole Kernel Sweet Corn
How Do I Make H.G's Dan-Good Chili?
Here is how you make H.G's Dan-Good Chili:
In a large nonstick pot, mix tomato sauce, diced tomatoes with green chiles, jalape?os, chili powder, and cumin. Set heat to low. Once mixture is hot, add carrots and garlic. Stir and continue to cook for about 5 minutes. Meanwhile, bring a large skillet sprayed with nonstick spray to medium heat. Add onion, mushrooms, peppers, 1/2 cup water and, if you like, a few dashes of salt. Cook and stir until veggies have slightly softened, about 5 minutes. Using a slotted spoon to drain any excess water, transfer veggies from the skillet to the large pot. Add corn and beans to the pot as well. Mix thoroughly. Cook over low heat for about 2 hours, stirring every 20 minutes or so, until all veggies are tender. Serve it up! MAKES 10 SERVINGS Serving Size: 10-1cup servingsNumber of Servings: 10.0Recipe submitted by SparkPeople user DEBBEV.
What's The Nutritional Info For H.G's Dan-Good Chili?
The nutritional information for H.G's Dan-Good Chili is:
Servings Per Recipe: 10
Amount Per Serving
Calories:

165.7
Total Fat:

1.4 g

Cholesterol:

0.0 mg

Sodium:

781.4 mg

Total Carbs:

33.3 g

Dietary Fiber:

9.1 g

Protein:

7.7 g
More Online Recipes
Appetizers, Soups & Salads, Asian, Beef & Pork, Birthday, Breakfast, Brunch, Christmas, Cookout, Dessert, Dinner, Fish, French, German, Indian, Italian, Kids, Lunch, Mexican, Party, Picnic, Poultry, Salad, Sandwich, Side Dish, Side Items, Slow Cooker, Snack, Soup, Spanish, Thanksgiving, Vegetarian
Online Recipes Of The Day