The recipe Spiced Oatmeal Cookies
Spiced Oatmeal Cookies recipe is a Dessert meal that takes 15 minutes to make. If you enjoy for Dessert, you will like Spiced Oatmeal Cookies!
Spiced Oatmeal Cookies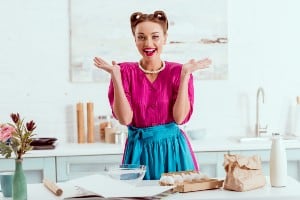 Spiced Oatmeal Cookies
I found this recipe online but changed it up (added more spice) because the original contained artificial sweeteners. They taste more like a portable bowl of oatmeal than a cookie but very delicious and filling.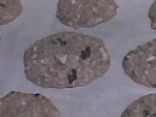 What Are The Ingredients For Spiced Oatmeal Cookies Recipe?
The ingredients for Spiced Oatmeal Cookies are:
1 1/2 cups old fashioned oats chopped with hand blender
5 packets stevia
1/2 tsp cinnamon
1/4 tsp allspice
1/2 tsp ginger
1/8 tsp coriander
3/4 cups low fat cottage cheese (can substitute fat free to reduce calories further)
3 egg whites
1/4 tsp baking soda
1/4 tsp baking powder
3/4 tsp vanilla
1/2 apple chopped into little pieces
1/4 cup raisins (not packed)
How Do I Make Spiced Oatmeal Cookies?
Here is how you make Spiced Oatmeal Cookies:
This recipe makes 12 large size cookies or 18 medium sized (nutrition calculated on twelve) Preheat oven 350 degreesMix together oats, stevia, and spices in medium sized bowl. Can add more spice and other spices if desired. In a blender or food processor (I used a hand blender) mix cottage cheese through vanilla until creamy. Add dry ingredients to wet mixture and mix thoroughly. Mix in apples and raisins until incorporated. Let mixture sit for five minutes. Drop by spoonfuls onto cookie sheet sprayed with non-stick spray (I used parchment paper sprayed with spray). Bake for 15-17 minutes until cookies are firm. Let cool three minutes on cookie sheet before removing. Number of Servings: 12Recipe submitted by SparkPeople user HEVER79.
What's The Nutritional Info For Spiced Oatmeal Cookies?
The nutritional information for Spiced Oatmeal Cookies is:
Servings Per Recipe: 12
Amount Per Serving
Calories:

65.8
Total Fat:

0.9 g

Cholesterol:

0.6 mg

Sodium:

107.9 mg

Total Carbs:

10.6 g

Dietary Fiber:

1.3 g

Protein:

4.1 g
More Online Recipes
Appetizers, Soups & Salads, Asian, Beef & Pork, Birthday, Breakfast, Brunch, Christmas, Cookout, Dessert, Dinner, Fish, French, German, Indian, Italian, Kids, Lunch, Mexican, Party, Picnic, Poultry, Salad, Sandwich, Side Dish, Side Items, Slow Cooker, Snack, Soup, Spanish, Thanksgiving, Vegetarian
Online Recipes Of The Day