The recipe crabless cakes
crabless cakes recipe is a Dinner meal that takes several minutes to make. If you enjoy for Dinner, you will like crabless cakes!
crabless cakes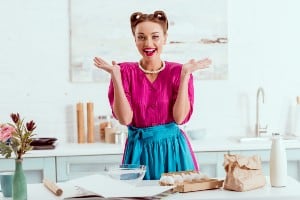 crabless cakes
The flavor of the old bay and the texture of the zucchini really make this work.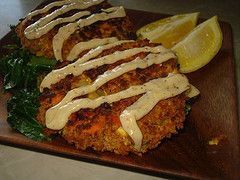 What Are The Ingredients For crabless cakes Recipe?
The ingredients for crabless cakes are:
3/4 cup minced celery
3/4 cup white onion, chopped
1/2 cup minced carrot
1 small green pepper, minced
1 small zucchini, grated
1/4 cup chopped parsley
Coking Spray
1 teaspoon salt
1 package firm tofu
2 tablespoon Old Bay seasoning
3/4 cup Nayonaise
Breadcrumbs (1/2 cup plus a cup)
How Do I Make crabless cakes?
Here is how you make crabless cakes:
Directions:1.) Spray a skillet and cook celery, onion, carrot, pepper, zucchini, and parsley until softened, about 5 minutes. Remove from heat and set aside.3. Pulse tofu in food processor to a cottage cheese consistency, being careful not to puree it. In a large bowl, combine tofu, sauteed vegetable mixture, 1/2 cup vegan breadcrumbs, mayonnaise and seasoning. Mix well.4. Using about 1/4 cup for each, form mixture into patties about 3 inch across and 1/2 inch thick. Coat each patty with remaining vegan bread crumbs to cover.5. Place patties on a sprayed or nonstick baking sheet and spray tops lightly with cooking spray. Bake 20 minutes. Carefully turn cakes over and return to the oven to bake until second side is toasty and browned, about 10 minutes. I then broiled them under supervision to make them crusty enough.Makes 17 cakes.Number of Servings: 8.5Recipe submitted by SparkPeople user 1THIRTY3.
What's The Nutritional Info For crabless cakes?
The nutritional information for crabless cakes is:
Servings Per Recipe: 8
Amount Per Serving
Calories:

177.0
Total Fat:

10.5 g

Cholesterol:

0.0 mg

Sodium:

321.4 mg

Total Carbs:

20.0 g

Dietary Fiber:

2.8 g

Protein:

11.5 g
More Online Recipes
Appetizers, Soups & Salads, Asian, Beef & Pork, Birthday, Breakfast, Brunch, Christmas, Cookout, Dessert, Dinner, Fish, French, German, Indian, Italian, Kids, Lunch, Mexican, Party, Picnic, Poultry, Salad, Sandwich, Side Dish, Side Items, Slow Cooker, Snack, Soup, Spanish, Thanksgiving, Vegetarian
Online Recipes Of The Day