Caldo verde recipe is a Dinner meal that takes several minutes to make. If you enjoy for Dinner, you will like Caldo verde!
Caldo verde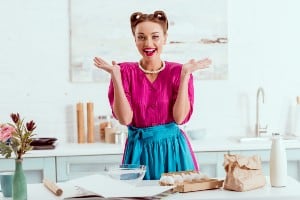 Caldo verde
On those nights that are cold or damp, and you need a nice savory dinner that will warm your bones. This soup is hearty, wholesome, and good.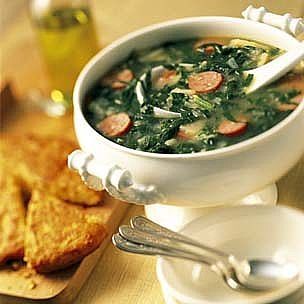 What Are The Ingredients For Caldo verde Recipe?
The ingredients for Caldo verde are:
1/4 cup olive oil
1 large yellow onion diced
1 medium size carrot, diced
4 cloves garlic, minced
8 cups blond chicken stock or shiitake vegetable stock
2 cups diced Yukon Gold or waxy potatoes (such as White Rose) diced
1 teaspoon herbes de Provence or dried thyme
1 bunch kale (we prefer rainbow)
1 can diced tomatoes (28 ounces), with their juice
1 can (about 14 ounces) white beans such as cannellini, drained
1/2 pound smoked pork sausage, such as chourico, chorizo (we use Sausages by Amylu - chicken chorizo), or kielbasa (optional), cut into 1/4 inch pieces.
coarse (kosher) salt and freshly ground black pepper
How Do I Make Caldo verde?
Here is how you make Caldo verde:
serves 6 to 81) Heat the olive oil in a large, heavy pot over medium-low heat. Add the onion and carrots and cook until the vegetables soften, 5 to 10 minutes. Add the garlic and cook, stirring often, until fragrant, about 2 minutes.2) Add the stock, potatoes, and herbes de Provence/dried thyme to the pot and bring to a boil over high heat. Reduce the heat to low and let simmer gently until the potatoes are partially cooked, about 15 minutes.3) Meanwhile, rinse the kale and remove and discard the tough stems. If the kale leaves are flat, cut them crosswise into 1 inch wide ribbons. If the leaves are curly, tear them into bite-size pieces.4) Add the kale, tomatoes, beans, and sausage, if using, to the soup and cook until the potatoes and kale are tender, 5 to 10 minutes.5) If the soup is too thick, thin it with more stock or some water. Season the soup with salt and pepper to taste and serve hot. Any leftover soup can be refrigerated, covered, for up to 5 days. Number of Servings: 8Recipe submitted by SparkPeople user KA_JUN.
What's The Nutritional Info For Caldo verde?
The nutritional information for Caldo verde is:
Servings Per Recipe: 8
Amount Per Serving
Calories:

342.4
Total Fat:

16.2 g

Cholesterol:

20.4 mg

Sodium:

773.8 mg

Total Carbs:

104.9 g

Dietary Fiber:

8.3 g

Protein:

16.8 g
More Online Recipes
Appetizers, Soups & Salads, Asian, Beef & Pork, Birthday, Breakfast, Brunch, Christmas, Cookout, Dessert, Dinner, Fish, French, German, Indian, Italian, Kids, Lunch, Mexican, Party, Picnic, Poultry, Salad, Sandwich, Side Dish, Side Items, Slow Cooker, Snack, Soup, Spanish, Thanksgiving, Vegetarian
Online Recipes Of The Day