The recipe Dirty Brown Rice
Dirty Brown Rice recipe is a Dinner meal that takes 50 minutes to make. If you enjoy for Dinner, you will like Dirty Brown Rice!
Dirty Brown Rice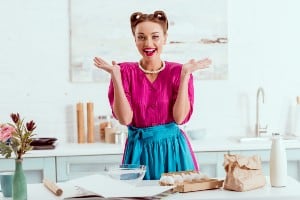 Dirty Brown Rice
Brown Rice w/ ground turkey and veggies!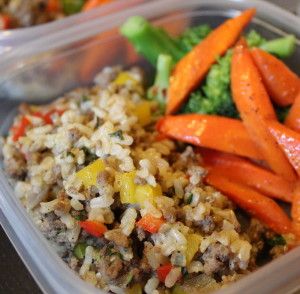 What Are The Ingredients For Dirty Brown Rice Recipe?
The ingredients for Dirty Brown Rice are:
1 tsp Chili powder
2 tsp Cinnamon, ground
4 tsp Pepper, red or cayenne
1 cup, chopped Scallions, raw
2.50 cup Brown Rice, long gra Cilantro, raw
2 tbsp Extra Virgin Olive Oil
2 tsp Cumin (ground)
1 head Garlic (raw)
1 cup Red Onion Raw (1/4 cup, 40g or 1.4oz)
5 gram(s) Red Pepper Flakes
5 cup Water
2 lb raw Ground Turkey
4 cup Bell peppers ( 2 Red, 2 Yellow)
How Do I Make Dirty Brown Rice?
Here is how you make Dirty Brown Rice:
METHOD - copied from http://mybodymykitchen.com/dirty-rice-turkey/1. Bring water to boil, then add rice. When water begins to boil again, reduce heat to a simmer and cover.2. Cook covered for 40-50 minutes until rice is tender; stir once after about 20 mins.3. While rice is cooking, heat oil in large skillet on medium heat; saute diced garlic, green and red onions for about 2 minutes. Add ground turkey and cook for about 10 minutes until turkey is fully cooked and brown.4. Stir in diced bell peppers, pepper flakes, spices and thyme.5. Add cooked rice and cilantro to turkey mixture and mix well.7. Add salt pepper to taste.Serving Size:?1
What's The Nutritional Info For Dirty Brown Rice?
The nutritional information for Dirty Brown Rice is:
Servings Per Recipe: 7
Amount Per Serving
Calories:

382.3
Total Fat:

18.6 g

Cholesterol:

96.2 mg

Sodium:

113.7 mg

Total Carbs:

27.2 g

Dietary Fiber:

4.2 g

Protein:

29.7 g
More Online Recipes
Appetizers, Soups & Salads, Asian, Beef & Pork, Birthday, Breakfast, Brunch, Christmas, Cookout, Dessert, Dinner, Fish, French, German, Indian, Italian, Kids, Lunch, Mexican, Party, Picnic, Poultry, Salad, Sandwich, Side Dish, Side Items, Slow Cooker, Snack, Soup, Spanish, Thanksgiving, Vegetarian
Online Recipes Of The Day