The recipe Shanghai Vegetable Rice
Shanghai Vegetable Rice recipe is a Asian Dinner meal that takes 30 minutes to make. If you enjoy Asian for Dinner, you will like Shanghai Vegetable Rice!
Shanghai Vegetable Rice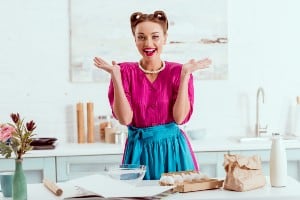 Shanghai Vegetable Rice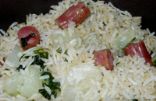 What Are The Ingredients For Shanghai Vegetable Rice Recipe?
The ingredients for Shanghai Vegetable Rice are:
4 teaspoons peanut or vegetable oil, or as needed
1 teaspoon chopped fresh garlic
4 stalks regular sized bok choy with leaves, chopped roughly into 1-inch pieces (about 3 cups chopped)
1 1/2 teaspoons regular table salt or sea salt, or to taste
2 cups long grain rice
3 cups water
3 Chinese sausages, chopped into 1-inch pieces
1 tablespoon light soy sauce, optional
How Do I Make Shanghai Vegetable Rice?
Here is how you make Shanghai Vegetable Rice:
Heat the oil a large saucepan over medium heat (about 6 on the stovetop). Add the garlic and cook for a few seconds, then add the bok choy.Stir-fry the bok choy for a minute, sprinkle with the salt and continue cooking for 2 more minutes for a total cooking time of about 3 minutes (if you like, separate the stalks and leaves and cook the stalks first for a minute before adding the leaves).Add the rice and water and bring to a boil on medium heat (about 5 on the stovetop) Cook until the water above the rice has almost completely evaporated and you are starting to see holes or "craters" in the rice, (this will take about 10 minutes).Turn the heat down to low, add the sausages on top, and the soy sauce if using. Cover and cook on low heat for about 25-30 minutes, until the rice and sausage are cooked. Use a fork to fluff up the rice.Makes about 4 servingsNumber of Servings: 5Recipe submitted by SparkPeople user OSERENDIPITYO.
What's The Nutritional Info For Shanghai Vegetable Rice?
The nutritional information for Shanghai Vegetable Rice is:
Servings Per Recipe: 5
Amount Per Serving
Calories:

336.1
Total Fat:

22.2 g

Cholesterol:

12.0 mg

Sodium:

1,332.8 mg

Total Carbs:

26.6 g

Dietary Fiber:

0.3 g

Protein:

8.5 g
More Online Recipes
Appetizers, Soups & Salads, Asian, Beef & Pork, Birthday, Breakfast, Brunch, Christmas, Cookout, Dessert, Dinner, Fish, French, German, Indian, Italian, Kids, Lunch, Mexican, Party, Picnic, Poultry, Salad, Sandwich, Side Dish, Side Items, Slow Cooker, Snack, Soup, Spanish, Thanksgiving, Vegetarian
Online Recipes Of The Day