The recipe Brown Rice Veggie Burgers
Brown Rice Veggie Burgers recipe is a Dinner meal that takes 30 minutes to make. If you enjoy for Dinner, you will like Brown Rice Veggie Burgers!
Brown Rice Veggie Burgers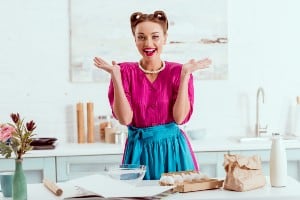 Brown Rice Veggie Burgers
I found this on xGFx.com, a completely Vegan & Gluten Free site. http://recipes.xgfx.org/2011/04/brown-rice-veggie-burgers/#more-351I substituted the sundried tomatoes with Chef Meg's Oven Roasted Tomatoes for a healthier option. This is what the nutrition info is based on.This ain?t no Boca burger!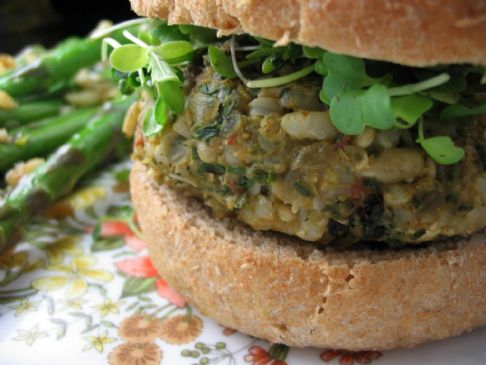 What Are The Ingredients For Brown Rice Veggie Burgers Recipe?
The ingredients for Brown Rice Veggie Burgers are:
2 cups cooked brown rice
⅓ cup raw sunflower seeds
10 swiss chard leaves, rinsed well (we left the stems on!)
a large fistful of fresh spinach (about a 2 cups worth)
3 small carrots (we left ours unpeeled)
1 small onion, chopped
2 sun-dried tomatoes (we have a few oil packed ones left on hand)
5 cloves of garlic, minced
? cup veggie broth (water will work a-okay, too!)
2 tbsp sesame seeds
2 tbsp nutritional yeast
1 tbsp tahini
2 tsp oregano
? tsp onion powder
? tsp poultry seasoning
? tsp sea salt (less if you like)
? tsp black pepper
1 tsp olive oil
olive oil cooking spray
How Do I Make Brown Rice Veggie Burgers?
Here is how you make Brown Rice Veggie Burgers:
Heat 1 tsp olive oil (or use olive oil cooking spray) in the large skillet on medium-high heat and saute the onion until tender. While you?re saut?ing the onion, place the carrots, spinach, and swiss chard leaves in the food processor and pulse until well chopped.Reduce the heat to medium add garlic and saute for another minute. add in pulsed carrots, spinach, swiss chard, and all the spices ? saut? for 5 minutes. Stir in veggie broth and tahini and cook it all while ya pulse up the sunflower seeds. Add sunflower seeds to food processor and pulse for just a few seconds (you want most of them to be chopped up a bit). Add sunflower seeds and the sesame seeds to the skillet and saute everything for another minute.remove from heat and transfer this mix to your large mixing bowl. using your food processor (just once more) add 1 cup of the brown rice & the sun-dried tomatoes; pulse until well chopped. place the chopped rice ?n sun-dried tomatoes, along with the remaining cup of whole cooked brown rice and nutritional yeast, to the mixing bowl.Combine everything together then form 4-6 patties (depending on the size you love the most) with your hands. (We refrigerated our burgers for a few hours because we made them in the afternoon and ate them later for dinner, but refrigeration isn?t be necessary.)Wipe out the large skillet and spray it with a little more olive oil cooking spray. Saut? burgers on medium heat until browned on both sides then turn off the heat, cover the skillet, and let ?em sit for a few minutes until warmed through (if they aren?t warmed through already. ours were a little thick and needed a little extra warming time.)Uncover, remove from heat, and enjoy! We topped ours with some local micro greens and poured on the ketchup!Serving Size: Makes 4-6 Patties, depending on preference.Number of Servings: 6Recipe submitted by SparkPeople user CAREBEAR5218.
More Online Recipes
Appetizers, Soups & Salads, Asian, Beef & Pork, Birthday, Breakfast, Brunch, Christmas, Cookout, Dessert, Dinner, Fish, French, German, Indian, Italian, Kids, Lunch, Mexican, Party, Picnic, Poultry, Salad, Sandwich, Side Dish, Side Items, Slow Cooker, Snack, Soup, Spanish, Thanksgiving, Vegetarian
Online Recipes Of The Day