Mock Risotto recipe is a Dinner meal that takes several minutes to make. If you enjoy for Dinner, you will like Mock Risotto!
Mock Risotto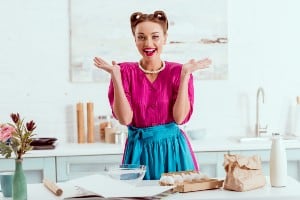 Mock Risotto
from eatingwell.com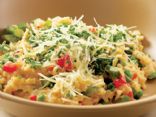 What Are The Ingredients For Mock Risotto Recipe?
The ingredients for Mock Risotto are:
1 tablespoon extra-virgin olive oil
1 medium onion, diced
1/4 teaspoon salt
2 cups instant brown rice
4 cloves garlic, chopped
2 1/2 cups vegetable or reduced-sodium chicken broth
1 pound asparagus, trimmed and cut into 1/4-inch pieces
1 red bell pepper, finely diced
1 cup frozen peas, thawed
4 ounces reduced-fat cream cheese (Neufchatel)
1/2 cup grated Asiago or Parmesan cheese, plus more for passing, if desired
1/4 cup minced chives or scallion greens
How Do I Make Mock Risotto?
Here is how you make Mock Risotto:
Heat oil in a large nonstick skillet over medium-low heat. Add onion and salt and cook, stirring often, until soft and just beginning to brown, 4 to 6 minutes. Add rice and garlic and cook until the garlic is fragrant, 30 seconds to 1 minute. Add broth and bring to a boil; cover, reduce heat to a simmer and cook for 5 minutes. Remove cover and spread asparagus and bell pepper on top of the simmering rice—do not stir into the rice mixture. Replace cover and continue simmering, adjusting the heat if necessary, until the liquid is almost absorbed and the asparagus is bright green but still crisp, about 5 minutes. Add peas and cream cheese; stir until the mixture is creamy and the cheese is incorporated. Return to a simmer and continue cooking until the liquid has evaporated and the asparagus is tender, about 5 minutes more. Stir in 1/2 cup Asiago (or Parmesan). Serve topped with chives (or scallions) and additional grated cheese. Number of Servings: 4Recipe submitted by SparkPeople user ALYSONDS.
What's The Nutritional Info For Mock Risotto?
The nutritional information for Mock Risotto is:
Servings Per Recipe: 4
Amount Per Serving
Calories:

329.6
Total Fat:

13.2 g

Cholesterol:

25.7 mg

Sodium:

862.8 mg

Total Carbs:

37.2 g

Dietary Fiber:

6.3 g

Protein:

17.5 g
More Online Recipes
Appetizers, Soups & Salads, Asian, Beef & Pork, Birthday, Breakfast, Brunch, Christmas, Cookout, Dessert, Dinner, Fish, French, German, Indian, Italian, Kids, Lunch, Mexican, Party, Picnic, Poultry, Salad, Sandwich, Side Dish, Side Items, Slow Cooker, Snack, Soup, Spanish, Thanksgiving, Vegetarian
Online Recipes Of The Day