The recipe Basic Pot Roast
Basic Pot Roast recipe is a Dinner meal that takes 300 minutes to make. If you enjoy for Dinner, you will like Basic Pot Roast!
Basic Pot Roast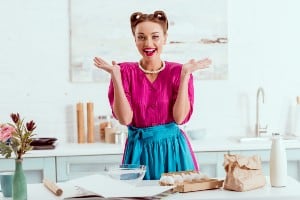 Basic Pot Roast
Super easy, but of so comforting. It's low in sodium and diabetic friendly.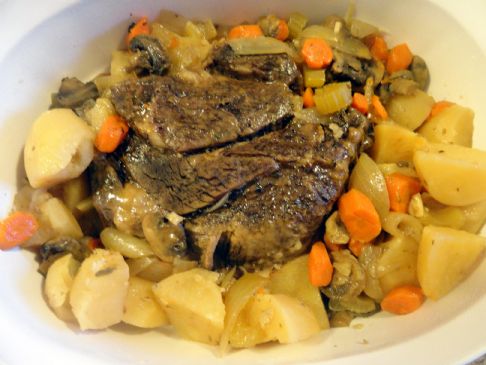 What Are The Ingredients For Basic Pot Roast Recipe?
The ingredients for Basic Pot Roast are:
Beef Roast
1 medium sized onion, cut & quartered
2 celery, cut in bite sized pieces
2 to 3 carrots, peeled, cut into bite sized pieces
2 cups of fresh mushrooms, sliced
5 to 7 potatoes, peeled and quartered
1 TBSP. Extra Virgin Olive Oil
2 1/2 cups of low sodium beef broth
1/4 tsp. of salt
1/4 tsp. black pepper
2 Bay Leaves, fresh or dried
1 sprig of fresh Rosemary or 1/2 tsp. of dried
2 sprigs of fresh Thyme or 1/2 of dried
2 garlic cloves, peeled, minced
Brown Gravy powder (optional)
How Do I Make Basic Pot Roast?
Here is how you make Basic Pot Roast:
Turn on your slow cooker to high while chopping up all your vegetables.Place all your chopped vegetables on the bottom of the pot to create a bed for your roast to sit on. Add all your seasonings to pot and mix it into the vegetables. Place the roast on top of the vegetables, pour your beef stock in, place the lid on it and let it cook for up to five hours. When it is finished pull the roast and vegetables and place in a dish with a lid on it. Take a strainer and pour out all the liquid to get a clear broth. Take a small sauce pan and pour the beef broth in and bring it up to a small boil. Make a slurry with cornstartch and cold water to pour into the pan to help thicken up the gravy. Let it cook for a minute.Serving Size: makes 6, 1.5 cups per servingNumber of Servings: 6Recipe submitted by SparkPeople user COMFYGLAMDIVA.
What's The Nutritional Info For Basic Pot Roast?
The nutritional information for Basic Pot Roast is:
Servings Per Recipe: 6
Amount Per Serving
Calories:

185.4
Total Fat:

3.5 g

Cholesterol:

2.8 mg

Sodium:

293.5 mg

Total Carbs:

33.1 g

Dietary Fiber:

5.7 g

Protein:

6.8 g
More Online Recipes
Appetizers, Soups & Salads, Asian, Beef & Pork, Birthday, Breakfast, Brunch, Christmas, Cookout, Dessert, Dinner, Fish, French, German, Indian, Italian, Kids, Lunch, Mexican, Party, Picnic, Poultry, Salad, Sandwich, Side Dish, Side Items, Slow Cooker, Snack, Soup, Spanish, Thanksgiving, Vegetarian
Online Recipes Of The Day