The recipe Yankee Pot Roast Dinner
Yankee Pot Roast Dinner recipe is a Dinner meal that takes 220 minutes to make. If you enjoy for Dinner, you will like Yankee Pot Roast Dinner!
Yankee Pot Roast Dinner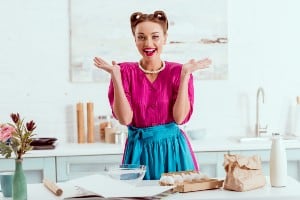 Yankee Pot Roast Dinner
7 Points. Prepare this dish on the weekend when you have time to let it simmer. Reheat leftovers for a quick, satisfying meal.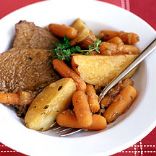 What Are The Ingredients For Yankee Pot Roast Dinner Recipe?
The ingredients for Yankee Pot Roast Dinner are:
1 sprays cooking spray
2 1/2 pound lean beef round, well trimmed (use boneless bottom round rump roast)
1/2 tsp black pepper
1/4 tsp table salt
2 large onion(s), sliced
1 3/4 cup water
1 packet onion soup mix
1 1/2 Tbsp balsamic vinegar, or red wine vinegar
1 tsp dried thyme
8 medium uncooked red potato(es), scrubbed and quartered (about 1 3/4 pounds)
1 pound baby carrots
1 Tbsp parsley, fresh, chopped (for garnish)
How Do I Make Yankee Pot Roast Dinner?
Here is how you make Yankee Pot Roast Dinner:
Place oven rack in lowest possible position; preheat oven to 350ºF. Coat a Dutch oven (a large pot with a tight-fitting lid) with cooking spray; heat over medium-high heat.Sprinkle roast with pepper and salt; place in pot and scatter onions around roast. Cook, turning roast and stirring onions occasionally, until roast and onions are browned, about 8 minutes. Pour water into pot; stir in soup mix, vinegar and thyme, and bring to a boil.Cover pot and bake in oven for 1 1/2 hours. Place potatoes and carrots around roast; cover and bake until roast and vegetables are tender, about 2 hours more. Remove one potato from pot and puree it in a blender; stir pureed potato into gravy to thicken it.Transfer roast to a cutting board and slice against grain into 16 slices. Garnish with parsley and serve with vegetables and gravy. Yields about 2 slices of meat, 1 cup of vegetables and 1/4 cup of gravy per serving. Number of Servings: 8Recipe submitted by SparkPeople user BELLATROTTA.
What's The Nutritional Info For Yankee Pot Roast Dinner?
The nutritional information for Yankee Pot Roast Dinner is:
Servings Per Recipe: 8
Amount Per Serving
Calories:

299.5
Total Fat:

5.7 g

Cholesterol:

80.8 mg

Sodium:

260.3 mg

Total Carbs:

25.1 g

Dietary Fiber:

3.6 g

Protein:

35.2 g
More Online Recipes
Appetizers, Soups & Salads, Asian, Beef & Pork, Birthday, Breakfast, Brunch, Christmas, Cookout, Dessert, Dinner, Fish, French, German, Indian, Italian, Kids, Lunch, Mexican, Party, Picnic, Poultry, Salad, Sandwich, Side Dish, Side Items, Slow Cooker, Snack, Soup, Spanish, Thanksgiving, Vegetarian
Online Recipes Of The Day