The recipe Turkey Ole Salad
Turkey Ole Salad recipe is a Mexican Salad meal that takes 10 minutes to make. If you enjoy Mexican for Salad, you will like Turkey Ole Salad!
Turkey Ole Salad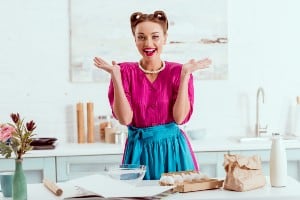 Turkey Ole Salad
Delicious Fresh Tasting Salad. Great alone, in a tortilla, on a bed of lettuce or served as a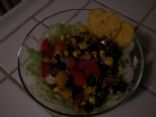 What Are The Ingredients For Turkey Ole Salad Recipe?
The ingredients for Turkey Ole Salad are:
Dressing:
1/4 cup olive oil (I reduced from 1/3 c)
1/3cup red wine vinegar
2 Tbsp water
1/3 cup chopped fresh cilantro
1/4cup chopped fresh parsley
2 cloves garlic, chopped (I like more)
1 1/2 tsp cumin
1 1/2 tsp chili powder
1/2 tsp black pepper
1/2 tsp salt (I reduced from 1 1/4 tsp)
Salad Ingredients:
10 oz lean ground turkey (7% fat) (this is half of a 20 oz pkg ground turkey-I use the rest for taco meat)
1 can black beans (15 oz) rinse & drain
1 can corn (15 oz) drain
2 cups diced fresh tomatoes
1 cup shredded reduced fat monterey jack cheese (NOTE optional & not in nutrition information)
How Do I Make Turkey Ole Salad?
Here is how you make Turkey Ole Salad:
Brown and drain ground turkey.Chop cilantro, parsley, tomato, red onion & garlic.Rinse and drain beans (reduces sodium)Drain corn.Combine all dressing ingredients ( olive oil through salt) and mix well. Combine salad ingredients in large bowl except the (optional) cheese. Stir in dressing. You can serve it right away, but I prefer to chill it until ready to serve, several hours or overnight. It has more distinct flavors at first and the flavor improves and blends with time. Stir in cheese just before serving, if desired. Enjoy this plain, serve it on a bed of lettuce, with chips or in a tortilla. It has a strong fresh cilantro flavor. I am always asked for this recipe any time I bring it somewhere. The bell pepper is a new addition. This salad packs a whopping 88% of your RDA of vitamin C! Very good!This can also be made without the ground turkey if you want a more vegetarian dish. Makes 8 - 1 cup servings Number of Servings: 8Recipe submitted by SparkPeople user CHERYLLEEM.
What's The Nutritional Info For Turkey Ole Salad?
The nutritional information for Turkey Ole Salad is:
Servings Per Recipe: 8
Amount Per Serving
Calories:

209.6
Total Fat:

9.8 g

Cholesterol:

0.0 mg

Sodium:

236.3 mg

Total Carbs:

20.5 g

Dietary Fiber:

5.5 g

Protein:

12.3 g
More Online Recipes
Appetizers, Soups & Salads, Asian, Beef & Pork, Birthday, Breakfast, Brunch, Christmas, Cookout, Dessert, Dinner, Fish, French, German, Indian, Italian, Kids, Lunch, Mexican, Party, Picnic, Poultry, Salad, Sandwich, Side Dish, Side Items, Slow Cooker, Snack, Soup, Spanish, Thanksgiving, Vegetarian
Online Recipes Of The Day