The recipe Garden Fresh Salsa
Garden Fresh Salsa recipe is a Mexican Snack meal that takes several minutes to make. If you enjoy Mexican for Snack, you will like Garden Fresh Salsa!
Garden Fresh Salsa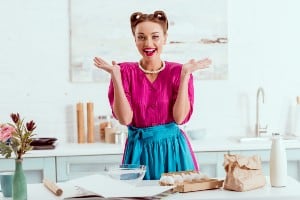 Garden Fresh Salsa
Prep Time: 10-15 minutesCook time: noneThis recipe I tossed together to have my own salsa and use up all the tomatoes in my house. Tastes great with multigrain tostidoes chips!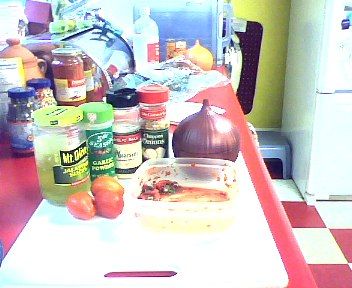 What Are The Ingredients For Garden Fresh Salsa Recipe?
The ingredients for Garden Fresh Salsa are:
6 - small/medium tomatoes
1/2 - red onion
1 tbsp - cilantro
1 tspn - crushed red pepper (dry)
1/4 tsp - diced garlic ( or 1/8 tsp powder garlic)
1/2 tsp - dry chopped onions
1/2 tsp - chopped jalapenos
1/4 tsp - jalapeno juice
1/8 tsp - onion salt, onion powder, or garlic salt (any and all of these work too)
How Do I Make Garden Fresh Salsa?
Here is how you make Garden Fresh Salsa:
Chop 4 small tomatoes and put them in a blender. Puree until slightly juicy. Chop remaining tomatoes and put them in a small bowl (I like to use tupperware so it can be stored immediately in the fridge). Chop red onion and add half to bowl, half to blender with pre-blended tomatoes. Dice remaining red onion and add to bowl. Chop 1/3 of cilantro and add to blender, chop remaining cliantro and add to bowl. Blend added ingrediants until a nice thick juice. Add juice to bowl. Stir for about 1-2 minutes. Chop or dice jalapenos and add to bowl. Add jalapeno juice and stir. Spinkle diced garlic or garlic powder over bowl while stirring, do the same with the dry onions. Add remaining spices according to taste. (For fresher and more blended flavor, put in fridge for about 10 minutes) Serve with Tostitos Multigrain Scoops!Serving Size: Makes about 1 cupNumber of Servings: 1Recipe submitted by SparkPeople user THEACTEDGUITAR.
What's The Nutritional Info For Garden Fresh Salsa?
The nutritional information for Garden Fresh Salsa is:
Servings Per Recipe: 1
Amount Per Serving
Calories:

244.4
Total Fat:

2.8 g

Cholesterol:

0.0 mg

Sodium:

73.1 mg

Total Carbs:

54.7 g

Dietary Fiber:

12.1 g

Protein:

9.1 g
More Online Recipes
Appetizers, Soups & Salads, Asian, Beef & Pork, Birthday, Breakfast, Brunch, Christmas, Cookout, Dessert, Dinner, Fish, French, German, Indian, Italian, Kids, Lunch, Mexican, Party, Picnic, Poultry, Salad, Sandwich, Side Dish, Side Items, Slow Cooker, Snack, Soup, Spanish, Thanksgiving, Vegetarian
Online Recipes Of The Day