Ninja Salsa recipe is a Mexican Side Dish meal that takes 45 minutes to make. If you enjoy Mexican for Side Dish, you will like Ninja Salsa!
Ninja Salsa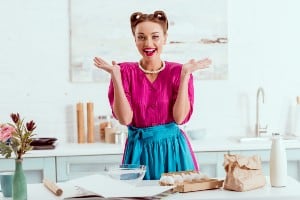 Ninja Salsa
I had to be somewhat of a "harvesting ninja" to get the goods for this spicy salsa from my garden - my stepdad has banned me from veggie picking this year :-S ! The heat is stealthy too - since the peppers are all roasted it starts off mellow, then brings a punch from behind! Serving size = approx 2 tbsp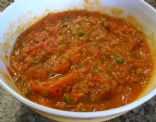 What Are The Ingredients For Ninja Salsa Recipe?
The ingredients for Ninja Salsa are:
33 oz assorted tomatoes, halved or quartered if large (cherries can stay whole)
1 green bell pepper, cored and quartered
1 red bell pepper, cored and quartered
2 jalapeno peppers, seeded and halved
1 Hungarian wax pepper, seeded and halved
1/2 large red onion, cut into 2-3 large pieces
1 tbsp olive oil
1 tsp kosher salt
juice of 2 limes
zest of 1/2 lime
1 bunch basil, shredded
How Do I Make Ninja Salsa?
Here is how you make Ninja Salsa:
Preheat oven to 375F. Line three large baking sheets with parchment paper.Combine vegetables, oil and salt in a large bowl, tossing well to coat.Spread on baking sheets in a single layer.Roast 40 minutes, rotating sheets after 20 minutes.Remove from oven and cool 10 minutes. Place 2/3 of the roasted vegetables, lime juice and zest into a food processor and puree. Remove to a non-reactive bowl.Add remaining vegetables to the processor and pulse just to chop coarsely.Add chopped mixture to the puree and fold through to combine.Cover and chill before serving.Number of Servings: 32Recipe submitted by SparkPeople user JO_JO_BA.
What's The Nutritional Info For Ninja Salsa?
The nutritional information for Ninja Salsa is:
Servings Per Recipe: 32
Amount Per Serving
Calories:

13.7
Total Fat:

0.6 g

Cholesterol:

0.0 mg

Sodium:

3.1 mg

Total Carbs:

2.2 g

Dietary Fiber:

0.6 g

Protein:

0.4 g
More Online Recipes
Appetizers, Soups & Salads, Asian, Beef & Pork, Birthday, Breakfast, Brunch, Christmas, Cookout, Dessert, Dinner, Fish, French, German, Indian, Italian, Kids, Lunch, Mexican, Party, Picnic, Poultry, Salad, Sandwich, Side Dish, Side Items, Slow Cooker, Snack, Soup, Spanish, Thanksgiving, Vegetarian
Online Recipes Of The Day