The recipe Spicy Vegan Fried Rice (no tofu)
Spicy Vegan Fried Rice (no tofu) recipe is a Asian Dinner meal that takes 5 minutes to make. If you enjoy Asian for Dinner, you will like Spicy Vegan Fried Rice (no tofu)!
Spicy Vegan Fried Rice (no tofu)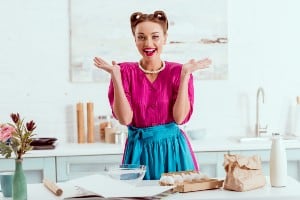 Spicy Vegan Fried Rice (no tofu)
Vegan fried rice with lots of yummy veggies as well as nut proteins+fats instead of tofu. -:D Still working out the kinks of the recipe but tastes good so far!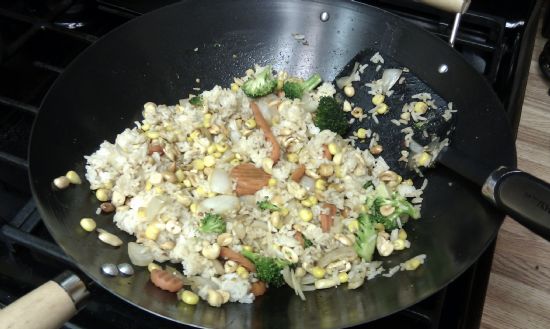 What Are The Ingredients For Spicy Vegan Fried Rice (no tofu) Recipe?
The ingredients for Spicy Vegan Fried Rice (no tofu) are:
2 cups cooked white rice (1 cup uncooked)
1 medium white onion, coarsely chopped
1/2 cup raw unsalted cashews
1/2 cup dry roasted unsalted peanuts
1/2 cup yellow corn kernels, frozen
1/2 cup carrot slices, frozen
1/2 cup broccoli, frozen, coarsely chopped
6 cloves garlic OR 2 heaping tbsp minced garlic
1 tbsp Earth Balance organic butter
2 heaping tbsp Thai chili sauce
1 tsp sunflower oil
3 splashes low-sodium soy sauce (~2 tbsp?)
How Do I Make Spicy Vegan Fried Rice (no tofu)?
Here is how you make Spicy Vegan Fried Rice (no tofu):
You can cook the rice and prepare the other ingredients while it cooks or use leftovers (like traditional fried rice).If cooking the rice, set that first in your rice cooker. While it is cooking, coarsely chop the onions.Turn on burner to medium-medium low and put in butter, garlic, and sunflower oil. Let it get melty then add the onions and stir frequently.The reason I say coarsely chop the onion is because while you stir you can separate the onion with the spatula (saves chopping time).After the onions get soft, add the cashews & peanuts.Stir for a minute, then add the corn. Add carrots after a minute of that. One splash soy sauce at this point.Once you see a bit of browning on either onions or carrots go ahead and throw in the rice. Add another splash of soy sauce as well as one of heaping tablespoons of Thai chili sauce (can be picked up in most major supermarkets now as well as Asian markets). Toss this around and make sure you break up any rice "chunks" or else it will not properly coat.Once it looks almost done (couple of minutes and rice will start to brown from soy), add the fresh broccoli, last splash of soy sauce and last tbsp of Thai chili sauce. Mix well.Top with soy sauce, ketchup, crushed pepper, or eat as-is. I like toppings on my fried rice. -:)Serving Size:?~6 1 cup servings.Number of Servings: 6Recipe submitted by SparkPeople user GIA_VICIOUS.
More Online Recipes
Appetizers, Soups & Salads, Asian, Beef & Pork, Birthday, Breakfast, Brunch, Christmas, Cookout, Dessert, Dinner, Fish, French, German, Indian, Italian, Kids, Lunch, Mexican, Party, Picnic, Poultry, Salad, Sandwich, Side Dish, Side Items, Slow Cooker, Snack, Soup, Spanish, Thanksgiving, Vegetarian
Online Recipes Of The Day