The recipe Briceno's Salsa
Briceno's Salsa recipe is a Mexican Side Dish, Snack meal that takes 90 minutes to make. If you enjoy Mexican for Side Dish, Snack, you will like Briceno's Salsa!
Briceno's Salsa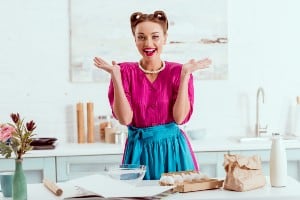 Briceno's Salsa
This salsa would be in the "medium" range, a little towards the "hot", but certainly does not qualify for the "hot" designation. The flavor is sweet with a bite to it. You may wish to add more salt, but I prefer to add salt to individual servings as desired. Overall it is slightly chunky but sweet with a little afterburn.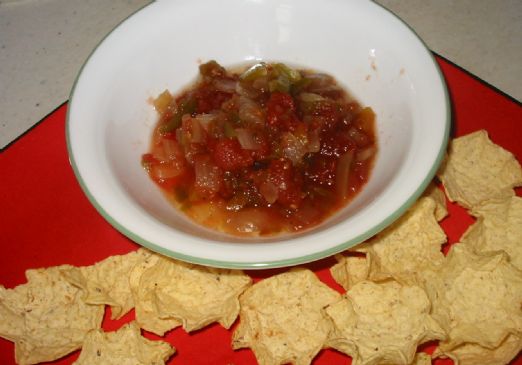 What Are The Ingredients For Briceno's Salsa Recipe?
The ingredients for Briceno's Salsa are:
4 Large Tomatoes
2 Large (White) onions
6 Medium size jalapeno peppers
2 or 3 Cayenne peppers
1 bell pepper or 1 can of green chili peppers (diced)
1 teaspoon lemon juice
2 teaspoons of white vinegar
1/2 teaspoon salt
1/2 teaspoon ground black pepper
1/2 teaspoon dried parsley or cilantro
1/2 cup water
1/2 cup ketchup
How Do I Make Briceno's Salsa?
Here is how you make Briceno's Salsa:
1. Dice tomatoes, onions, and bell peppers to 1/4"2. Chop up the jalapenos (remove placenta and seeds) and cayenne peppers as fine as you want...BE SURE TO WEAR GLOVES, DO NOT TOUCH YOUR FACE, ESPECIALLY AROUND YOUR EYES...or you'll be sorry!3. Add diced and chopped ingredient and 1/2 cup of water to a pan (at least a 3 quart pan).4. Bring to a boil, simmer for 30 minutes5. Remove from heat, allow to cool.6. Add lemon juice, vinegar, salt, pepper, parsley and ketchup after the salsa has cooled down.~~~~NEW~~~~~7. For Canning: Pour into jars, place jars in a deep pan (canning type), with lids secure (not too tight), add water to cover tops of lids, slow boil for 10 minutes (may see bubbles come from jars).8. Remove and cool and put it on the shelf. No refrigeration required.Serving Size:?Makes 4 1/2 pints or 18 servings @ 1/2 cup per serving
What's The Nutritional Info For Briceno's Salsa?
The nutritional information for Briceno's Salsa is:
Servings Per Recipe: 18
Amount Per Serving
Calories:

25.8
Total Fat:

0.2 g

Cholesterol:

0.0 mg

Sodium:

218.2 mg

Total Carbs:

6.0 g

Dietary Fiber:

1.1 g

Protein:

0.7 g
More Online Recipes
Appetizers, Soups & Salads, Asian, Beef & Pork, Birthday, Breakfast, Brunch, Christmas, Cookout, Dessert, Dinner, Fish, French, German, Indian, Italian, Kids, Lunch, Mexican, Party, Picnic, Poultry, Salad, Sandwich, Side Dish, Side Items, Slow Cooker, Snack, Soup, Spanish, Thanksgiving, Vegetarian
Online Recipes Of The Day