The recipe Skinny Chimichangas
Skinny Chimichangas recipe is a Mexican Dinner meal that takes 45 minutes to make. If you enjoy Mexican for Dinner, you will like Skinny Chimichangas!
Skinny Chimichangas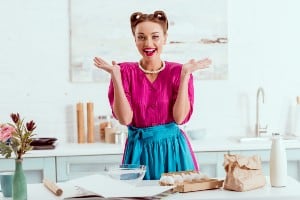 Skinny Chimichangas
You don't have to miss your favorite food because you want to eat healthier. Here's a healthier version of the well known Mexican Entree.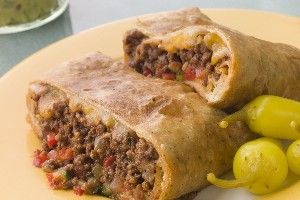 What Are The Ingredients For Skinny Chimichangas Recipe?
The ingredients for Skinny Chimichangas are:
1⁄2 lb ground turkey breast
1 onion, finely chopped
1 clove garlic, minced
2 tsp chili powder
1 tsp dried oregano
1⁄2 tsp ground cumin
8 oz can tomato sauce
2 tbsp mild green chili pepper, chopped
1⁄3 cup reduced-fat cheddar cheese, shredded
8 in fat-free flour tortillas
How Do I Make Skinny Chimichangas?
Here is how you make Skinny Chimichangas:
Preheat the oven to 400 degrees F.2.Spray a nonstick baking sheet with nonstick spray; set aside.3.Spray a medium nonstick skillet with nonstick spray; set over medium-high heat.4.Add the turkey, onion, garlic, chili powder, oregano, and cumin.5.Cook, breaking up the turkey with a wooden spoon until browned, about 6 minutes.6.Stir in the tomato sauce and the chilies; bring to a boil.7.Reduce the heat and simmer, uncovered, until the flavors are blended and the mixture thickens, slightly, about 5 minutes.8.Remove from the heat and stir in the cheddar cheese.9.Meanwhile, wrap the tortillas in foil and place in the oven to warm for 10 minutes.10.Spoon about 1/2 cup of the filling into the center of each tortilla.11.Fold in the sides, then roll to enclose the filling.12.Place the chimichangas, seam-side down, on the baking sheet.13.Lightly spray the tops of the tortillas with nonstick spray.14.Bake until golden and crisp, about 20 minutes.15.Do not turn.Serving Size: Serves 4 Number of Servings: 1Recipe submitted by SparkPeople user BPORTER76.
What's The Nutritional Info For Skinny Chimichangas?
The nutritional information for Skinny Chimichangas is:
Servings Per Recipe: 1
Amount Per Serving
Calories:

260.9
Total Fat:

8.0 g

Cholesterol:

29.8 mg

Sodium:

630.7 mg

Total Carbs:

34.8 g

Dietary Fiber:

3.0 g

Protein:

11.4 g
More Online Recipes
Appetizers, Soups & Salads, Asian, Beef & Pork, Birthday, Breakfast, Brunch, Christmas, Cookout, Dessert, Dinner, Fish, French, German, Indian, Italian, Kids, Lunch, Mexican, Party, Picnic, Poultry, Salad, Sandwich, Side Dish, Side Items, Slow Cooker, Snack, Soup, Spanish, Thanksgiving, Vegetarian
Online Recipes Of The Day